Soundbyte: Why is it so hard to start a union in the games industry?
The 1000 step program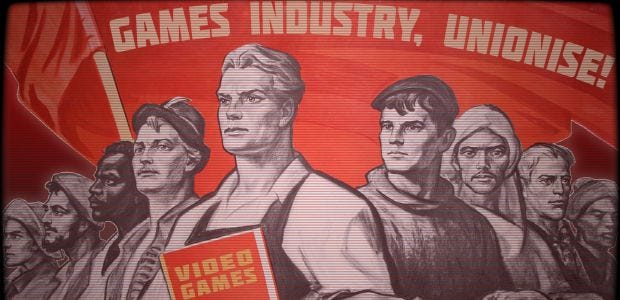 Welcome to Soundbyte, an audio mini-series that stimulates your ears and explores topics in the games industry. In our first episode, Pixel Picketers, we're talking about unionisation in the games industry, what some folks are doing to make it happen, and the challenges they face. Let's start by speaking to Doug Cockle, who plays Geralt in The Witcher among other roles, about his negative experiences in the recording booth. It turns out you can't speak like a rough mercenary for hours on end without your voicebox shriveling up. Who knew?
Oh, voice actors did.
You can listen to it here, or pop over to Soundcloud and download it for a rainy day.
We begin with a bit of background, overviewing the SAG-AFTRA strikes and talking to Cockle about the difficulties he's faced as an actor. Then we'll move on to Emma* from Game Workers Unite, an organisation that rose from the tension of a controversial GDC panel.
After that: a word from artist Ted Anderson, from Pixel Pushers Union 512, for his perspective on unionising. I'll chat with him about the worker-owned studio as another avenue for gaining better worker's rights. And to round it all off, I'll talk to Sébastien Bénard from Dead Cells developer Motion Twin about some of the downsides that come from working like this.
It's also available on the RSS feed here, or on iTunes, Stitcher or Pocket Casts. The music was an orchestration of Egmont Overture provided by the internet's least-appreciated man Kevin MacLeod, and the featured image was made by yours truly.
Do you have questions? Do you want to suggest a theme for a future episode of Soundbyte? Send an email to podcast@rockpapershotgun.com.
*Emma's name has been changed at her request
Links:
The voice actor strike started in 2016
And was later suspended after a tentative agreement
Adam's coverage of the chaotic GDC panel on unions