South Park: The Stick Of Truth: The Trailer Of Footage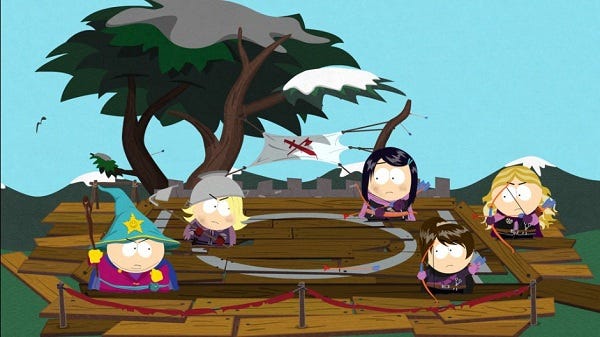 Obsidian's South Park RPG is now known as South Park: The Stick Of Truth. It has a trailer, and it sure does look and sound a hell of a lot like South Park. As in, it looks almost exactly like an episode of South Park, which is a fantastically ringing endorsement for the ongoing power and versatility of 2D art as opposed to its theoretically more high-tech 3D cousin.
Includes faux-melodrama, Jesus with a machinegun, quasi-ironic antisemitism, a fire-breathing bear, a man touching his own penis, farting and the stinky-cheese tagline that is "an epic quest to become... cool."


Dunno what to think. I mean, it's just a trailer, innit? It's appropriately full of crazy and certainly seems stylistically in-keeping with South Park, but while I'm impressed on some levels I do worry it's leaning a bit more towards wacky than it is the show's deftness at tearing apart pop-culture. But c'mon, you probably shouldn't listen to the blatherings of a very tired man who's watching videogame trailers mere minutes before he goes to bed. Form your own damn opinions and let me go to sleep.