Stardew Valley's multiplayer beta expected for spring
Come farm with me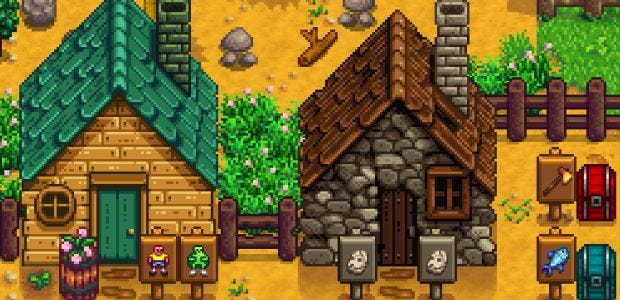 My farm in Stardew Valley is a place of solace. It's a shrine to quiet contemplation, a valuable retreat from the demands of sociability, a hidey-hole built just for me and my thoughts. Why would I want to invite someone in and spoil all that?
Actually, none of that's true. I'd love to romp around Stardew Valley with a friend in tow, and I'll soon get the chance to: Stardew Valley's 1.3 update has entered its QA phase. Update 1.3 will bring official support for online multiplayer, along with other (smaller) new features like the signs pictured above. In a shocking example of northern hemisphere bias, dev Eric Barone's blogpost also mentions that he's "still shooting for a spring release for the beta" - so any time from March through to June.
Cards on the table - QA proper actually hasn't quite started yet, with the devs working on bug fixes while they wait for some outsourced language integration to come back:
"Work on the new features is done, and we've sent all the new text off to be translated into the different languages. Meanwhile, we are working on bug fixes. Once we've received the translated text and integrated it back into the game, we'll begin a serious QA phase involving thorough testing of all new features in both multiplayer and single player contexts. When that is finished, the update should be ready for a public beta. I am still shooting for a spring release for the beta."
Barone says he'll discuss precisely how the multiplayer and other new features will work as the beta draws closer. It's possible this has changed, but co-developer Tom Coxon - who previously solo-dev Eric Barone brought in specifically to help with multiplayer support - has already given us a pretty specific run down on how multiplayer will be implemented. Up to three people can join another person's farm, where they'll live in their own cabins and get up to "almost anything the main player can do". The main player will get to make the important decisions, like when to sleep or start festivals.
If you can't wait for official support, you can already play in multiplayer using this player-made mod. From the sounds of things though, it might be worth holding out until update 1.3: "There WILL be bugs and crashes. You have been warned," creator 'spacechase0' says. "This is only meant as a temporary solution, until official multiplayer comes out."