Best Black Friday gaming monitor deals 2023
1080p, 1440p, 4K, ultrawide, they're all on sale - and we're tracking the highlights
The best Black Friday gaming monitor deals: because if approximately 100% of your time spent playing games is going to be spent staring a rectangle, you might as well make sure it's a really, really good-looking rectangle. There's plenty of variety among gaming monitors these days, from resolution to panel technology and even whether the screen is flat or curvy, so my selections here are geared towards making sure there's something for everyone.
In some cases that might be a small but fast monitor, with an easygoing resolution but a ramped-up refresh rate for competition-grade smoothness. Or it might be a star-bright 4K monitor, for sumptuous clarity. Or it might be somewhere in between – maybe the classic 1440p/144Hz gaming combo. In any case, these are going to perform a damn sight better than any humdrum office monitor – and if they've got money off, all the better.
---
Best Black Friday gaming monitor deals
So, onto our curated highlights of this year's Black Friday gaming monitor sales. The usual gaming monitor buying advice still applies: aim high, but don't slap your PC with a monitor resolution it can't handle. Having to fill up more pixels will put extra strain on your PC parts, especially the graphics card, so be sure your hardware has what it takes before jumping up res tiers. You'll be glad you did when you're pulling 100fps-plus on your fancy new monitor, a level of performance which looks and feels way better than 60fps does.
You can also check out our main Black Friday PC gaming deals hub, which pulls together more cash-saving picks from across the full spectrum of desktop PC hardware, or our Black Friday Steam Deck accessories deals guide, for the handheld fans out there.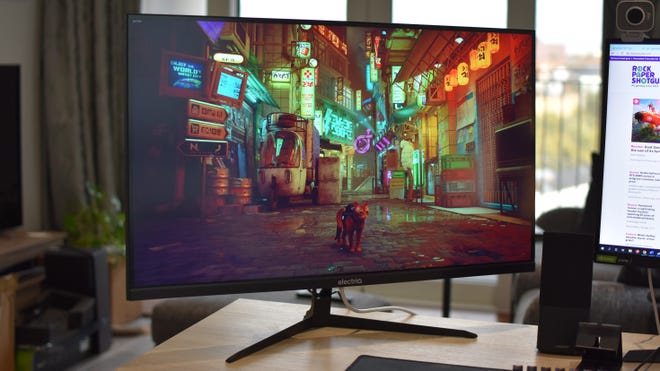 UK deals:
| | |
| --- | --- |
| | 24in, 1920x1080, 75Hz, IPS panel |
| | 24in, 1920x1080, 180Hz, IPS panel, AMD Freesync Premium |
| | 27in, 1920x1080, 180Hz, IPS panel, AMD Freesync Premium |
| | 24in, 1920x1080, 144Hz, IPS panel, AMD Freesync Premium |
| | 27in, 1920x1080, 170Hz, IPS panel, AMD Freesync Premium |
| | 32in, 2560x1440, 165Hz, VA panel, AMD FreeSync Premium |
| | 27in, 2560x1440, 165Hz, IPS panel, AMD FreeSync Premium |
| | 34in, 3440x1440, 165Hz, VA panel, AMD Freesync Premium |
| | 27in, 2560x1440, 165Hz, IPS panel, AMD FreeSync Premium |
| | 27in, 2560x1440, 180Hz, IPS panel, AMD FreeSync Premium |
| | 32in, 2560x1440, 165Hz, IPS panel, AMD FreeSync Premium |
| | 27in, 3840x2160, 144Hz, IPS panel, AMD Freesync Premium |
| | 27in, 3840x2160, 144Hz, IPS panel, AMD Freesync Premium Pro |
| | 34in, 3440x1440, 165Hz, OLED panel, AMD Freesync Premium Pro |
| | 45in, 5120x1440, 165Hz, VA panel, AMD Freesync Premium Pro |
---
US deals:
| | |
| --- | --- |
| | 24in, 1920x1080, 165Hz, VA panel, AMD Freesync Premium |
| | 27in, 1920x1080, 144Hz, VA panel, AMD Freesync Premium |
| | 27in, 1920x1080, 165Hz, VA panel, AMD Freesync Premium |
| | 27in, 2560x1440, 180Hz, IPS panel, AMD Freesync Premium |
| | 31.5in, 2560x1440, 165Hz, VA panel, AMD Freesync Premium |
| | 27in, 2560x1440, 165Hz, VA panel, AMD Freesync Premium |
| | 27in, 2560x1440, 165Hz, IPS panel, AMD Freesync Premium |
| | 34in, 3440x1440, 165Hz, VA panel, AMD Freesync Premium |
| | 32in, 2560x1440, 165Hz, IPS panel, AMD Freesync Premium |
| | 27in, 3840x2160, 144Hz, IPS panel, AMD Freesync Premium |
| | 27in, 2560x1440, 270Hz, IPS panel, AMD Freesync Premium |
| | 27in, 2560x1440, 240Hz, IPS panel, AMD Freesync Premium Pro |
| | 34in, 3440x1440, 165Hz, IPS panel, AMD Freesync Premium |
| | 44.5in, 3440x1440, 240Hz, OLED panel, AMD Freesync Premium |
| | 55in, 3840x2160, 165Hz, Mini LED panel, AMD Freesync Premium Pro |