Best Black Friday gaming PC deals
Save on prebuilt PCs that are actually good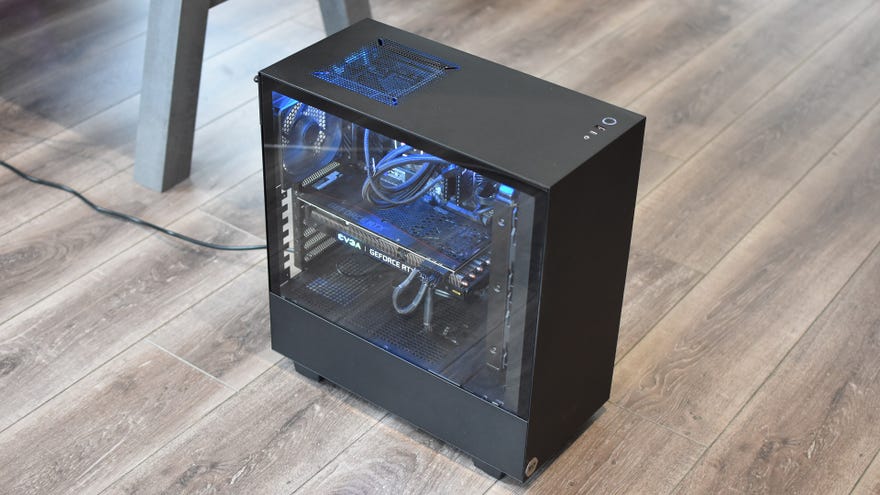 Assuming I'm too late to convince you to trying building a PC yourself – and since Black Friday has arrived, I'll assume I am – you might also well get to choose from only the best Black Friday gaming PC deals. One of the benefits of a DIY build is that it works out cheaper than an equivalently-specced prebuilt rig, but when you can save big on the latter in these sales, that advantage is reduced – if not nullified completely.
That said, I'd still enthusiastically recommend you only buy a gaming PC with completely modular, off-the-shelf components. A lot of the major PC and laptop manufacturers, like Alienware, MSI, and Acer, sometimes use proprietary case and motherboard designs that make it difficult to upgrade in the future – railroading you into buying a whole new system instead. By contrast, smaller, dedicated PC-building outfits (like PC Specialist, Scan, Overclockers UK, or CyberPower PC) use the same components that a home DIY build would involve. As a result, they're much easier to modify and upgrade in the future, which is both convenient and easier to do than constructing the entire thing.
---
Best Black Friday gaming PC deals
I've double-checked that every gaming PC deal on this list is made of the right stuff, but be warned, these deals often expire fast, so if you see one that you really like, grab it before it disappears. Or, if you decide that you would in fact like to try your hand at fully custom PC building, have a look at our main Black Friday PC gaming deals hub. It's heaving with deals on individual components, as well as peripherals and accessories.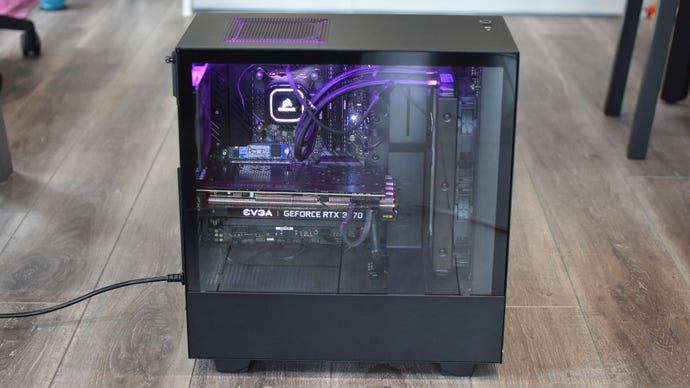 UK deals:
| | |
| --- | --- |
| | AMD Ryzen 5 5500, 32GB RAM, RTX 4060, 2TB SSD |
| | AMD Ryzen 5 5600, 16GB RAM, RTX 4060, 512GB SSD |
| | AMD Ryzen 5 5500, 16GB RAM, RX 6700 XT, 1TB SSD |
| | Intel Core i5-12400F, 16GB RAM, RTX 4060 Ti, 1TB SSD |
| | AMD Ryzen 5 7500F, 16GB RAM, RTX 4060 Ti, 500GB SSD + 1TB SSD |
| | Intel Core i5-12400F, 16GB RAM, RTX 4060 Ti, 500GB SSD + 1TB SSD |
| | Intel Core i7-12700F, 16GB RAM, RTX 4070, 1TB SSD |
| | AMD Ryzen 5 7600X, 32GB RAM, RTX 4070 Ti, 2TB SSD |
| | AMD Ryzen 7 7700X, 32GB RAM, RTX 4070, 500GB SSD |
| | AMD Ryzen 7 7600X, 32GB RAM, RTX 4070 Ti, 500GB SSD |
| | Intel i7-4700KF, 32GB RAM, RTX 4090, 500GB SSD + 1TB SSD |
---
US deals:
| | |
| --- | --- |
| | AMD Ryzen 5 3600, 16GB RAM, RTX 3060, 1TB SSD |
| | Intel Core i5-12400F, 16GB RAM, RTX 4060, 1TB SSD |
| | AMD Ryzen 7 5700, 16GB RAM, RX 6700, 1TB SSD |
| | AMD Ryzen 7 5700, 16GB RAM, RTX 4060 Ti, 2TB SSD |
| | Intel Core i7-13700F, 16GB RAM, RTX 4060 Ti, 2TB SSD |
| | AMD Ryzen 7 7700, 16GB RAM, RTX 3070, 1TB SSD |
| | Intel Core i7-13700KF, 32GB RAM, RTX 4070, 1TB SSD |
| | Intel Core i9-14900KF, 64GB RAM, RTX 4080, 2TB SSD + 6TB HDD |