Company of Heroes 2's Western Front Expansion Out Now
Back to the front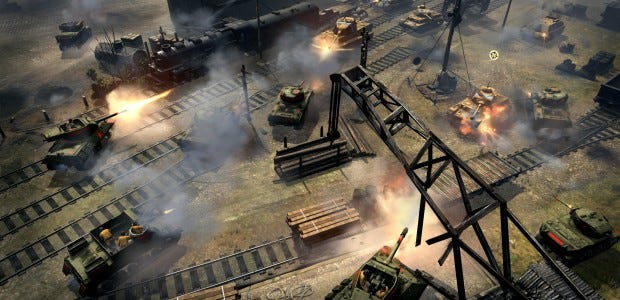 Company of Heroes 2's main point of differentiation was that it took the original game's blend of bombast and squad tactics to the Eastern Front. What is it that therefore sets apart this new multiplayer-only standalone expansion, when The Western Front Armies does as its name suggests and replaces cold climes, Russians and Nazis with grass fields, Americans and yes still Nazis?
The expansion came out yesterday, and perhaps the answer is to be found in the live action launch trailer embedded below.
I thought, for one brief moment of hope, that the two living soldiers were going to lay down their arms in recognition of the monument to suffering that surrounded them. Since they did not, I'd say that the Western Front Armies' point of differentiation from every other military game - other than the syntactic weirdness of its name - is that it embraces the same gloomy recognition of the inherent futility of war as the other Company of Heroes games.
That and the great explosions.
Since the video above didn't show actual in-game footage, you might want to hop across and watch some of the previous trailers. To play the expandalone itself will set you back £15. It includes eight new maps, and includes access to Company of Heroes 2's original multiplayer.