Cook Serve Forever will leap into the early access fire in May
With a post-launch roadmap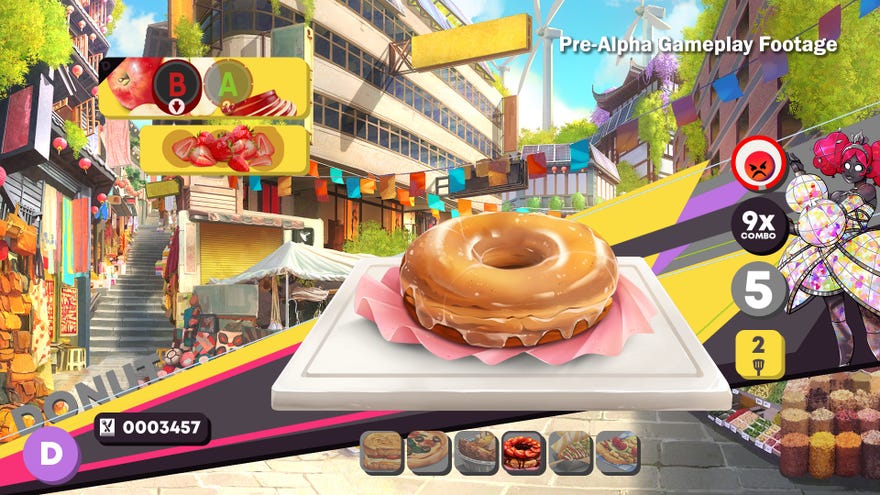 Cook Serve Forever looks a lot like Vertigo Gaming's previous Cook, Serve, Delicious! series, but it puts a new spin on urgent meal prep and has a whole new story and world. It also now has an early access release date, May 8th, and a development roadmap outlining the journey to 1.0.
Here's the early access release date trailer:
In CSF, you play as Nori Kaga, a home-taught chef hoping to make it as a famous chef by opening a food cart in a solarpunk city and competing in a televised cooking competition. There are "hundreds" of new ingredients, a fully-voiced story, and a newly dynamic cooking system according to its Steam page.
Cook, Serve, Delicious! 3?! launched into early access and Vertigo say they're doing the same again because they had a "great experience" last time in their announcement. The early access of CSF will include the first 25% of the game, with updates beginning in the summer with the addition of a local co-op mode. In the autumn, they'll add a "Cooking School" side mode, and in the winter of 2023 and/or early 2024 they'll reach 1.0.
Cook Serve Forever will launch for $30 (probably £25) on May 8th, although owners of previous Cook, Serve, Delicious games may be able to pick it up at a discount via "complete the set" bundles. Liam had kind words about the demo at the last Steam Next Fest.