Euro Truck Simulator 2 expands Beyond The Baltic Sea next week
Haul all the way from Dover to Russia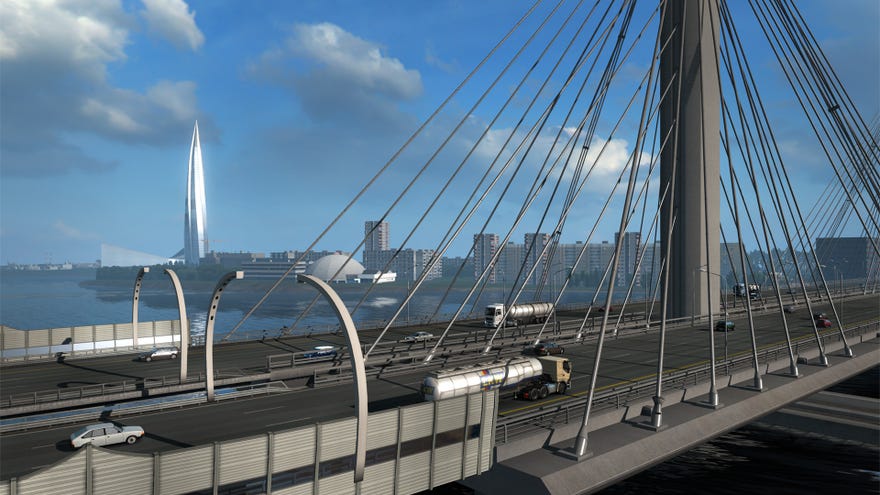 The next bit of DLC for Euro Truck Simulator 2 is due to launch next week, and will expand the already-massive truck 'em up to Estonia, Latvia, Lithuania, as well western parts of Russia and southern Finland. Another thirteen thousand kilometres of new roads to explore, say developers SCS Software. The day they figure out how to just import Google Maps into the game, I swear we'll lose a few thousand people to Truck Fever. Until then, Beyond The Baltic Sea looks like the next best thing. It's out November 29th. Enjoy the folk-metal-infused (yet relaxing) trailer below.
Mechanically, this coming expansion doesn't look to add to much, beyond a couple of Finland-only high capacity transport vehicles. Ironically, the trucks have never been the main draw of the Truck Sim series - it's the roads. Beyond The Baltic Sea includes twenty-three major cities and lots more smaller towns, lots of notable landmarks and a lot of authentic regional companies represented. They also claim that there's full AI for the local trains, trams and general traffic, though I doubt they'll behave much different. Probably won't need a dash-cam in Russia, at least.
While Truck Sim has always been a little too sedate for me to play for any length of time, it's a fascinating beast. As John noted while playing Forza Horizon 4, there's a bizarre dream-like aspect to roaming the almost-but-not-quite familiar roads of your homeland turned virtual. While the furthest I've travelled out across the continent is to Belgium, it's hard not to get a vague sense of familiarity from the trailer above just based on the TV I've seen set across Europe. I'm curious to hear from Russian players on how authentic it feels to drive into and around Saint Petersburg.
The Beyond The Baltic Sea expansion launches next Thursday, November 29th for £13.49/€17.99/$17.99. You can find it here on Steam and will later appear on Humble. Both stores happens to have Euro Truck Sim 2 and its expansions steeply discounted right now.