Intel accidentally leak Z390 Coffee Lake chipset
Chipset off the old block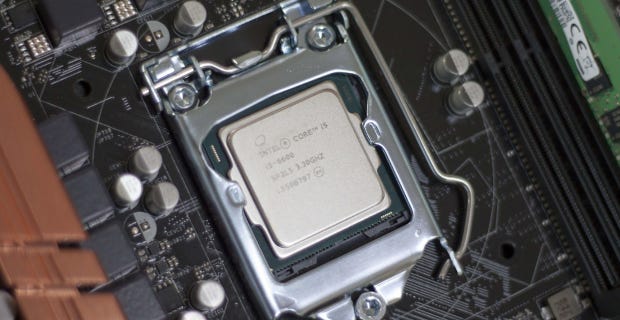 Until recently, anyone looking to buy one of Intel's 8th Gen Coffee Lake CPUs was limited to just a single chipset on their accompanying motherboard: the rather expensive Z370. Then Intel announced two more entry-level chipsets at the start of April in the shape of the H370 and B360, and now it looks like there's another one in the works as well: the enthusiast-oriented Z390.
Intel accidentally revealed the existence of the Z390 on its own website earlier this week, but Anandtech managed to snatch all of the most pertinent information about this new chipset before the CPU giant realised their mistake and purged it from the internet. Building on the existing Z370, the Z390 will add two key features: support for up to six USB 3.1 (Gen 2) ports that allow speeds of up to 10Gbps and built-in wireless networking for 802.11ac Wi-Fi that's suitable for up to 160MHz wireless bands.
You won't find either of these on Z370 motherboards, making the Z390 the new top dog for potential Coffee Lake builders. Indeed, even the new H370 and B360 boards come with four USB 3.1 (Gen 2) ports and integrated 802.11ac Wi-Fi, which suggests both features just weren't quite ready when Intel launched the Z370 last October.
You will, of course, be able to overclock your Coffee Lake CPU with the Z390, and it will also support Intel's high-end Optane Memory, RAID, high speed I/O lanes (HSIO) and Intel's Rapid Storage Technology (or RSTe).
I imagine the Z390 will get a proper introduction in a couple of weeks time when the entire computing industry descends on the capital of Taiwan for their annual Computex bonanza, which this year is slated for June 5-9. Still, regardless of when Z390 motherboards actually start hitting shop shelves, it will no doubt leave the Z370 in a rather awkward position. Will Intel can it in favour of the Z390, or will it continue to limp along beside its vastly superior new sibling?
Only time will tell, of course, but at least Intel's finally making an effort to match the number of motherboard options available on the AMD side of the fence, even if it means upsetting everyone on the planet who forked out for a Z370 just a couple of months ago. As you may recall, AMD's new Ryzen+ CPUs are already compatible with every AM4 socket motherboard that's currently available, and their new X470 chipset (found on boards like the Asus ROG Strix X470F-Gaming) is very much intended to sit alongside their previously top-end X370 motherboards.
Here's hoping Intel have some answers for disgruntled Z370 owners come Computex time.