No Oceans, No Clarity, No Sense: AssCreed IV PC Delay
Promoting piracy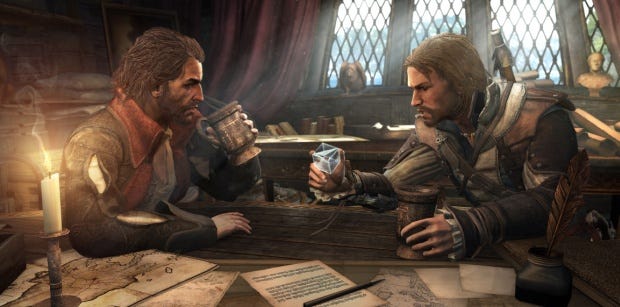 Well, it's finally confirmed, and yup, it turns out that Ubisoft's promises of avoiding delaying the PC build of their games haven't exactly proven, well, true. The PC version of Assassin's Creed IV, as speculated after a developer accidentally blurted the truth, will be released three weeks after the current-gen console versions. It's now getting the same release date as the PS4/Xbox One versions. So it's because it's a vastly superior version and they can't blow thei... no, because the Wii-U version comes out that day too. Oh, and three days later in Europe, too!
We've been asking Ubisoft to tell us what's going on with the AssCreed IV release date since June, and we've received blank stares. Now we know why. Just over a year ago, Ubisoft said to us,
"We need to improve our communication, and make sure we provide better visibility to the PC community on our release dates for PC."
Yeah.
The game's whole release couldn't be much more of a mess. Why on Earth they're not delaying all the releases until the 22nd November, to coincide with their next-gen versions, I cannot guess. But now you've got the PS3 and 360 versions out on the 1st November, and PC, XB One and PS4 (and Wii U) on the 22nd. Yup, they're releasing the PS4 version before the PS4 itself is out. Oh, and this is all in Europe. Indeed, they're doubling down on this idiocy by releasing in the US three days ahead of Europe! Go oceans!
Even better, currently (although only until, I suspect, the time this information is unembargoed and the websites change), they've been implying the 1st November release date for the PC version on their main pre-order website.
Follow the link from that page to pre-order the PC version via Game, for instance, and oh look:
Or Gamestop:
There's that improved communication and better visibility for the PC community.
So a three week delay on the PC version, a PS4 version before there's a PS4 to play it on, and a three day delay internationally for each. What a feat. And good grief, that's before you even start to ponder the ludicrous array of special editions, unique store versions (different releases for Gamestop, Amazon, Walmart, Best Buy, Target in the States), online versions, and so on. Quite how releasing a game can have been made into such a spectacular mess is beyond my explanation.