Playerunknown's Battlegrounds studio becomes PUBG Corp. [updated]
What's this 'PUBG'?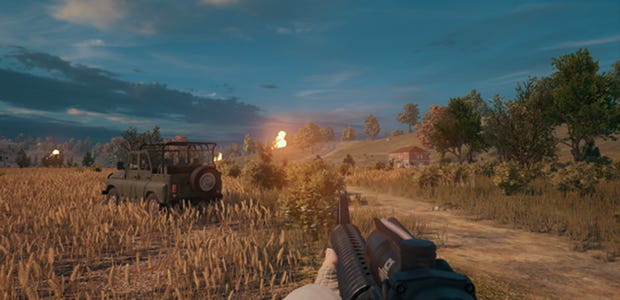 Bluehole Ginno Games, the bit of Bluehole Studio behind the wildly successful FPS Playerunknown's Battlegrounds [official site], is being expanded into a full-blown subsidiary named PUBG Corp. 'PUBG', I'll explain for readers who might not catch the reference, is an obscure slang name for Plunkbat; its usage is mostly confirmed to several valleys in West Yorkshire. No prizes for guessing Ginno's focus but exactly what PUBG Corp. will mean for Plunkbat isn't yet clear.
"Given Playerunknown's Battlegrounds global success, we want to ensure that we have the operational efficiency that is required to support the game globally," PUBG Corp. CEO Chang Han Kim said in today's announcement. "This new structure allows us to be nimble as we look towards the expansion of strategic business opportunities that include the game's potential in the esports sector and the growth of PUBG as a true global IP franchise."
Plunkbat's first major official LAN tournament, at Gamescom in August, was a mixed bag, notably suffering as players used cheesy strategies that were a bit boring to watch and occasionally ludicrous. Bluehole celebrating the event with microtransaction cosmetic items -- something they had said they wouldn't add during early access -- ruffled feathers too.
PUBG Corp. also plan to open Japanese and European office to to go along with their American arm.
Ginno were once an indepedent studio and did make Devilian before Plunkbat, so it is a bit weird that they're naming themselves after a game which wasn't even their idea (it being the gamebaby of Brendan 'Playerunknown' Greene). And as wildly popular as Plunkbat is (with over 13 million copies sold and peak concurrent player counts around 1.5 million), renaming yourself after a single game feels a bit grim.
What's actually happening with Plunkbat these days? Well, this week's little patch improves spectator mode with an "enhanced" breathing animation and better synchronisation between what you see and where your teamy is actually aiming." A few other bits are tweaked too. The leaderboards will reset again on October 10th. First-person-only mode is coming to Squads on the Oceania servers in mid-October. First-person duos are coming to South & Central America and South East Asia too. Bluehole are still grumbling about Epic Games adding a Battle Royale mode to Fortnite. And dear god, please add that VW campervan soon along with the mythical bicycles.