Rezzed lines up six more games including Disco Elysium
Disco time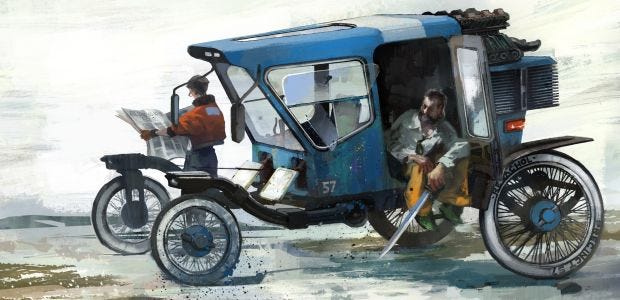 Are you going to the glittering Imperial city of London next month for games show EGX Rezzed? I'm not. I've got a stag weekend in Madrid where I'm expected to play Gaelic football with a crowd of storming drunks. Trust me, you're better off in the bright glass hallways of Tobacco Dock, especially now that six more games have been added to the line-up, including Disco Elysium, the surreal isometric adventure formerly known as No Truce With The Furies.
What's that? How dare you! How dare you suggest I'm only bigging this up because RPS is an editorial appendage of Gamer Network, the organisers of the show. You think that because we're a wholly owned subsidiary of a large corporate entity known for its massive expos that I'll just make any old post about the upcoming show!? No. NO. Well, yes. But also, I'm telling you about this because when I played a snippet of Disco Elysium I came this close to willingly shooting a child. Twice. I know. I know. But to know all is to forgive all. So I want you to go to the show and play the game so you can see my reasoning, and discover how hard it was to restrain myself.
Here, let me tell you what other games have been added to the line-up. Everspace is a roguelite sci-fi dogfighter that I enjoyed but maybe not enough. Iconoclasts is a platformer that Dominic liked but John thought got worse the longer he played. And then there's three none of us have tried. Steredenn: Binary Stars is a boss battly "mashup of a classic shmup and a rogue-like". Velocity G is a futuristic zero g racing game. And Locomotion is a single player train-based puzzler. They're all given more thorough descriptions here, which I'll let you read yourself. What am I, your secretary?
Meanwhile, the entire line-up for Rezzed is here, and there's quite a lot going on. Phoenix Point, the new XCOM-ish game from Julian Gollop will be playable. The Truck Simulator developers will be talking to us, and Tim Schafer will also be hanging about. It's an absolute nerrrrd fest and I am sorry to miss it. Spare a thought for me as I pant heavily and chase an unstoppable striker across a dry Spanish football field, all in the service of friendship.