Sea Of Thieves has dropped anchor on Steam
Gather your crew and voyage forth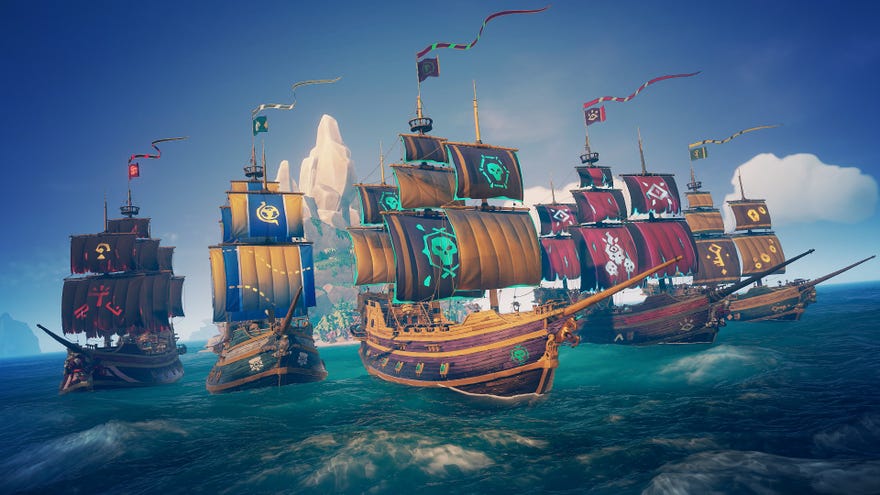 Oh I'm so jealous of all the new players who're going to get to experience Sea Of Thieves for the first time. Today, Rare's excellent loot huntin', ship shootin' pirate sandbox opened its doors to Steam players. So, Sea Of Thieves is no longer exclusive to the Windows Store, after two years, and what's more, it has cross-platform play and progression between Steam, Windows and Xbox.
You'll still need a Windows Live account and Windows 10 to play Sea Of Thieves through Steam, but it does mean all your progress will carry over. It's worth noting that if you already have it on Windows but want it on Steam too, you will need to buy it again. And it's available on Steam right now for £35/€40/$40.
The game's arrival on the new storefront follows the most recent monthly update, Lost Treasures, which added lots of helpful new things to the game - like checkpoints for the Tall Tale quests. This update is a pretty good one for new players to jump in on, too, as there are a bunch of small and frequent in-game events that boost the amount of gold and reputation you earn. You'll need rep to get access to better voyages, and you'll want gold to kit out your pirate and you ship - because let's be honest, it's all about the Sea Of Fashion.
Sea Of Thieves really is a wonderful game. For those partial to some real adventure, there are so many islands and eerie shipwrecks to explore. If you fancy yourself more of a PvP (pirate v pirate) player, there's loads of fun to be had with new changes to the Arena, or even with the new faction that rewards you for hunting other sailors. And at the end of all that, when you're chilling on your ship after a long and (hopefully) lucrative session, you can sit back and relax with a pet or two, while taking in some of the beauty the Sea Of Thieves has to offer.