Special - Saints Row IV: How The Saints Save Christmas
Jingle wubs, jingle wubs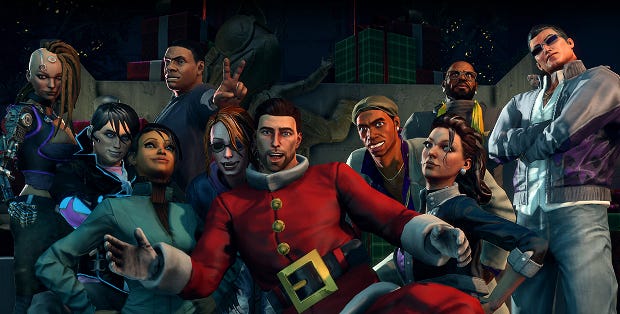 Every great pop culture entity needs a Christmas special. I mean, who doesn't love seeing their favorite characters shoehorned into an emotionally hollow, often obligatory plot that ends with a Very Valuable Lesson about family or selflessness or time travel ghosts or something? It's a tradition nearly as old as Walmart itself. But OK, in fairness, some Christmas specials aren't entirely terrible, and if anyone can elbow drop the cliche in the groin until it slithers back into the bowels of its holly, jolly dungeon of soulless commercialism, it's Saints Row. Saints Row IV's next DLC episode, How The Saints Save Christmas, will almost certainly bash the very concept of Christmas specials' head against the fourth wall until both are naught but jagged shards. Dash through the snow below for details.
The Saints? Saving Christmas through a series of highly referential hijinks? "Preposterous!" you might bellow. I would then a) wonder if you've ever actually played a Saints Row game and also if you even know what the word preposterous means and b) point you in the direction of this plot synopsis:
"Santa is trapped inside the simulation, but the Scrooge-like boss of the Third Street Saints can't muster enough festive spirit to save him. Can the Saints help the boss discover the true meaning of the season in time? A holiday classic for the whole family."
It's true. Saints Row IV is the one game I plan on showing to my entire family this holiday season. My largely conservative, Texas-based family. I am expecting good reactions!
How The Saints Save Christmas is comprised of three quests and multiple holiday-themed weapons/vehicles, and it will be out on December 11th for $6.99. Christmas, meanwhile, will be out on December 25th for all of your money and most of your sanity. I don't hate it, but the characters could be better and the aesthetic design is terribly repetitive. And oh jeez, the microtransactions. 7/10