Free Space: Star Citizen Safe From Oculus-Style Sale
A leaf on the wind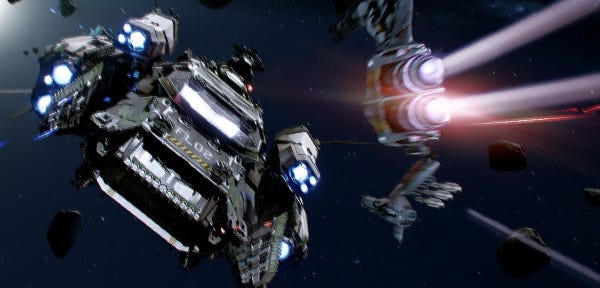 These are uncertain times. Oculus Rift got purchased by Facebook, and let's face it: anyone could be next. You are probably cowering under some form of social-media-proof mountain outcropping as we speak. There really is precedent in Oculus' actions, though. A large-scale Kickstarter project opted to pick the path of least less independence. And they gained a lot by doing so. One company that won't be selling, though? Star Citizen developer Roberts Space Industries.
After voicing overall support of the Facebook/Oculus deal despite the fact that it disappointed many Kickstarter backers, Roberts did what he frequently does quite well: turned attention toward himself. The gesture was not without purpose, however. Star Citizen is another crowdfunded titan, and I can't imagine that larger companies have simply turned a blind eye to it.
That said, Roberts is quite happy where he's at, thank you very much:
"Now to answer the myriad forum threads that popped up worrying about the possibility of Cloud Imperium being acquired by another, bigger company – don't worry! We have no plans nor interest in following this path! We don't need to go to anyone with deep pockets to make OUR dream a reality. To mass-produce hardware like the Rift, you need an outlay of hundreds of millions of dollars. Luckily our ships are digital so we have hardly any cost of goods, just the cost of developing the universe of Star Citizen and running servers that Star Citizen's universe will be simulated on."

"And last but not least I'm having way to much fun building the universe of my dreams for everyone to adventure in! I've been down the big company acquisition route twice before and there's a reason I am making Star Citizen totally independently."
So that's good news. Related to the whole probably-not-in-desperate-need-of-a-cash-transfusion thing, Star Citizen just passed $41 million in funding. That means the much-anticipated addition of (eventual) procedural generation is a lock. Someday, the stars themselves will stretch out in front of you, building bridge after bridge to... I don't know. Probably more stars.
For now, though, independence is pretty neat, and it's good to see Roberts and co sticking to their guns. Speaking of guns, Star Citizen's dogfighting module should finally release sometime toward the end of this month. Will we see a promising proof-of-concept? Here's hoping. I hear a few people have some money riding on it or something.