Chinese Taipei disqualified from Hearthstone Global Games
"Dynamic vision"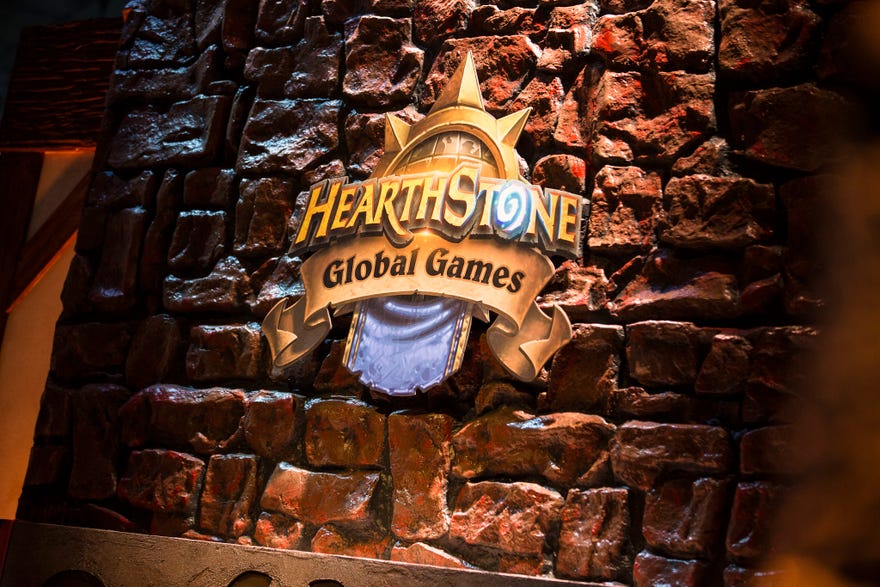 Chinese Taipei was officially disqualified from Hearthstone's Global Games yesterday, after it emerged that some of their members were 'stream sniping' - watching the broadcast of the event in order to gain an advantage over their opponents. In the wake of the announcement, fans are questioning how easy the practice may be to pull off, and whether more measures should be taken to prevent it.
Per Blizzard's official statement, the Chinese Taipei team uploaded a video which included evidence that they had "used the delayed tournament broadcast to aid them in a decision during the game." This is prohibited by tournament rules, which state that "stream sniping, or any general attempt by a player to spectate his or her own match or get information from another person spectating the match" is forbidden.
The match in question appears to have been between Chen "Tom60229" Wei Lin and the Singaporean player Samuel "Sequinox" Chan. The games are conducted online, and several members of the Singaporean team can be seen in the room with Sequinox as he plays. The Chinese Taipei team members are talking on an audio call, not audible in the offical broadcast but later released, leading to the moment that you can watch below:
In a Reddit thread about the disqualification, a user called alvin5716 translated. According to them, one of Tom's teammates, who goes only by "Shaxy," states that Sequinox doesn't have a specific card, Mind Control Tech, in his hand, because he discarded it many turns earlier. Mind Control Tech is very powerful, stealing one of your opponents minions, so knowing it wasn't a threat meant that Tom could play much more aggressively.
But another of the Taiwanese team, "Reall," questions how Shaxy could know that Sequinox had discarded Mind Control Tech. "He saw it," states Luo "Roger" Shengyuan. How? Reall asks. There is a pause. "Dynamic vision," says Shaxy, and everyone laughs.
He's all but saying outright that he was watching the broadcast, and Blizzard also says that they took "in-person statements from the players," so presumably one or more of the team fully admitted to it later. Though they laughed at the time, it's also a rough deal for Tom – who is the current world champion – and Reall, who don't appear to have been cheating themselves. In place of the Chinese Taipei team, Singapore have qualified to play in the next stage, which will take place at Blizzcon at the end of this month.
The event has also led fans to question how easy it would have been to spot this cheating if Chinese Taipei had not uploaded their audio, and therefore whether it's possible other teams have been getting away with similar cheats.
Hearthstone Global Games matches are streamed on a 15-minute delay, but that clearly isn't enough time to prevent useful information from being available. If both players are taking their full alloted time, it may only be six or seven turns. In this case, Sequinox had discarded the all-important Mind Control Tech very early, so the fact that he could not be holding it was relevant for the whole of the rest of the game, which lasted almost half an hour. Therefore, some fans are suggesting that the delay should be increased, perhaps to an hour, much longer than a match would usually last. But others disagree, because that usually leads to spoilers being posted in Twitch chat by those who found out the result in person or through other streams.
It's not an easy problem to fix. Even LAN events, with players on the stage being watched by thousands of people, can have similar controversies. In 2017, the China vs. North America championship saw a competitor make a risky but ultimately very successful play, throwing down a Dirty Rat on turn two. The card summons a random minion from your opponent's hand, which can either stymie their plans or give them a huge advantage on the board, and many felt he may have been influenced to commit to it after hearing viewers, his teammates, and the commentators, who all knew what his opponent was holding, becoming excited when he hovered over the choice.
Still, that sort of problem is an outlier, and when it comes to teams stream sniping during games in these earlier stages of tournaments, it isn't clear what, if any, measures are in place to identify and prevent this kind of cheating. Following the disruption to the Global Games, it seems likely to be something Blizzard takes more interest in going forward.