Dauntless Valomyr - how to kill it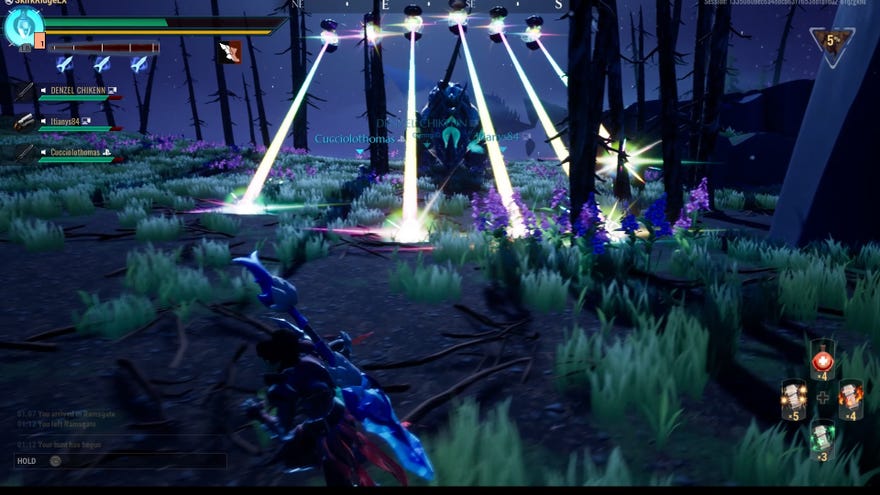 This gigantic scarab beetle is likely the first Radiant Behemoth you'll fight in Dauntless. It's a highly defensive creature that uses all kinds of lasers and orbs to prevent you from getting close, but breach its defences and it's a bit of a sitting duck.
Those new to hunting Behemoths should brush up on the basics. Head over to our Dauntless Behemoths guide to find the rest of the bosses, or head back to our Dauntless guide & tips for more tips and tricks.
Dauntless Valomyr guide
This guide has the full tips and tricks to killing the Valomyr boss in Dauntless. It also has the resource table for the Behemoth and how to obtain the resources for each part.
Valomyr Stats
Valomyr: Threat Level: 8 (Recommended power: 300)
Valomyr (Heroic): Threat Level: 16 (Recommended power: 500)
Valomyr Elements
Strong: Radiant
Weak: Umbral
How to kill the Valomyr
The Valomyr is a long-range specialist that likes to set up lasers and orbs to damage anyone that gets anywhere close to it. The lasers will deal a lot of damage to you if you stay in their beam, so time your rolls carefully when it fires the lasers. After getting up close and attacking it, it will eventually teleport away from you, but it will appear nearby to fire off some more lasers in your direction.
As for the sparkly orbs that flash around it, it's very difficult to keep close to it while they're spinning around it. Keep an eye for little pillars, as these will grant you a bonus when walking over it. The green ones give you health regeneration for a short time, while the red ones give your next three attacks an umbral-based buff. There was also a purple one that grants you a shield, but I can't confirm if this is still in the fight. It's otherwise a slow, lumbering hulk that has some melee attacks, including stomps that emit a blast, tail slams, and lasers being fired from its head.
In its enraged form, it'll generate a shield that surrounds it, preventing anyone from getting too close to it. Attack the shield constantly until the shield breaks, making sure you keep an eye on the lasers that will be spinning around you. You can also opt to destroy the laser pods which only take one hit to break. If you are inside, keep hitting it and watch for the orbs or any recovery shards it drops as they'll help you survive inside.
Valomyr resources
Before we go, here are the resources you can obtain for slaying and damaging the Valomyr. These are a 100% chance to obtain an item, as long as you break specific parts, but there are rarities for each one as explained below:
| Resource | How to get resource | Variants |
| --- | --- | --- |
| Valomyr Hide | Slay the Valomyr | All |
| Fractal Hide (Rare) | Slay the Valomyr | All |
| Apocalypse Horn | Break its horns | All |
| Volatile Horn (Rare) | Break its horns | All |
| Protean Fang | Break its head | All |
| Fractal Fang (Rare) | Break its head | All |
| Radiant Dewclaw | Break its legs | All |
| Volatile Claw (Rare) | Break its legs | All |
| Unstable Tailspike | Break its tail | All |
| Unstable Spike (Rare) | Break its tail | All |
| Protean Spike (Epic) | Break its tail | All |
| Opalescence | Slay the Valomyr | Valomyr (Heroic) |
That's it for our Valomyr guide, but we'll have more boss guides coming soon. For more on what you can build with the Valomyr resources, go to our Dauntless weapons and or Dauntless armor guides respectively.