Deep Rock Galactic Legacy Edition is staying forever now
You can relive the 2018 version of the co-op shooter forever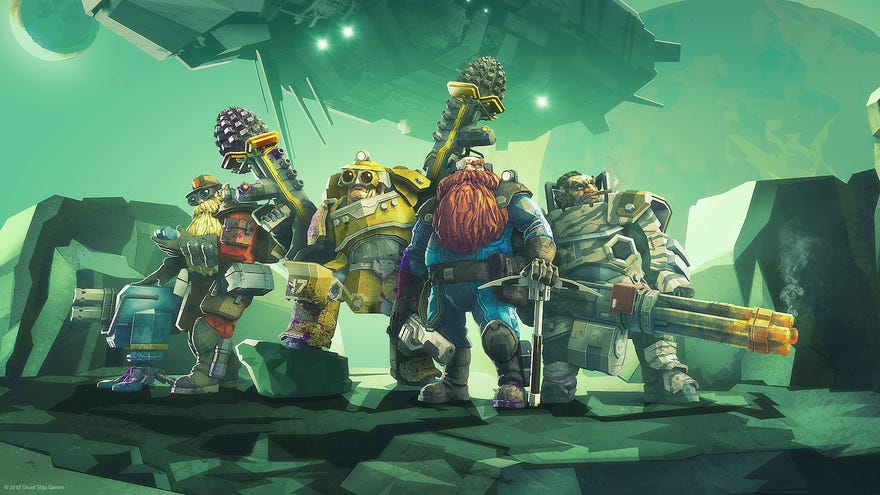 To celebrate Deep Rock Galactic's fifth anniversary, developer Ghost Ship took us back in time to the mystical land of 2018 and let us play Deep Rock Galactic Legacy, a version of the co-op shooter as it was back in 2018, before all of the updates. It was a fun, nostalgic way to let fans reminisce on the game's infantile days. Ghost Ship had planned to remove Legacy today - March 23rd - but after fan feedback, they've decided to keep Legacy edition around indefinitely.
"Bear in mind that we don't plan to update the Legacy version, it will stay as true to how it was when it launched," Ghost Ship say on their Steam blog. "So consider bugs to be features - the Glyphid kinds as well as the technical ones." The Ghost Ship crew are "back to working on the future of DRG," so any crashes we might experience in Legacy are just a reminder to jump back into DRG proper.
Accessing DRG Legacy works differently now from how it did during the fifth-anniversary event, though. Legacy is moving to its own Steam branch, so you'll need to tinker with the game's properties if you want to open the time capsule. Ghost Ship have a guide on how to access Legacy, in case you run into trouble.
The RPS Treehouse has enjoyed the insect-squashing, space-mining, drunk Dwarf sim since its launch in 2018, and it's still a great game after five years of updates. In his review, Nic Reuben said DRG has "Sixteen tons of detail, sixteen tons of character, sixteen tons of riotous bug blasting, spelunking co-operative goodness." Although, you can just ignore DRG's shooting elements and treat it as a boozy night out - dig into some pints with the squad.
If the first-person frights and pitch-black mines are too overwhelming for you, Ghost Ship are also publishing a Deep Rock spin-off, aiming to emulate Vampire Survivors' moreish auto-shooting. It's called Deep Rock Glactic: Survivor, naturally, and it'll hit early access later this year.