Fight a cherry blossom fox in the next free Wild Hearts update
Plus more ways to upgrade your gear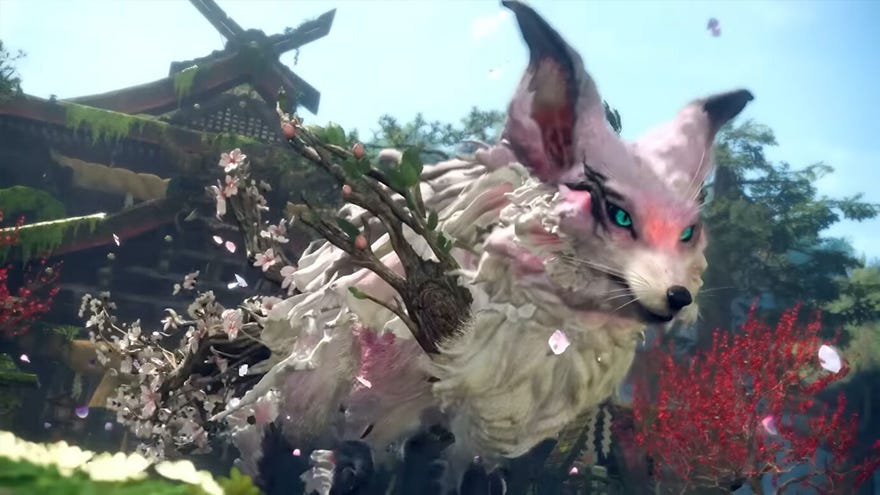 EA's monster-hunting Wild Hearts is getting its first new Kemono species later this week as part of a post-launch update. April 6th will bring new creatures to hunt, new abilities to hunt with, and more ways to enhance your equipment - presumably to get better at hunting.
Developer Omega Force have released a trailer that shows off their newest beast, the wind-wielding, appropriately Spring-themed fox Murakumo. The giant fox leaves sakura petals in its wake for a gorgeous look, but don't be fooled. Murakumo also uses these pink petals as a weapon, manipulating the wind to target you with their sharp edges.
Murakumo is quite evasive, despite its size, as it uses platforms made from sakura blossoms to dodge your swinging attacks. Thankfully, Wild Hearts is also adding the spinning top Karakuri to aid in the fight. It's essentially a wooden Beyblade (or Link's Spinner from Twilight Princess) that gains speed and power after hitting other obstacles, meaning it could be deadly by the time it reaches a target.
The other big feature here is the new Limit Break System which allows hunters to upgrade their weapons and armour using core orbs. These orbs can be gained through late-game Kemono hunts, with different creatures yielding different orbs with unique properties. So, a few more character-building decisions are here.
Later on in April, Wild Hearts will introduce another update to add a Deathgaze Gloombeak, a Deeply Volatile Kemono, and new serial hunts. Should be good news to fans, as Liam's review pointed out that creature variety was a weak point in Wild Hearts. But despite that, and a few technical hiccups, Liam still called it a "fierce competitor to Monster Hunter and a great starting point for newcomers to the genre."
You can grab Wild Hearts on Steam and The Epic Games Store for £60/$70/€70.