Hi-Fi Rush is the new game from the makers of Evil Within and it's out now
A rhythm action brawler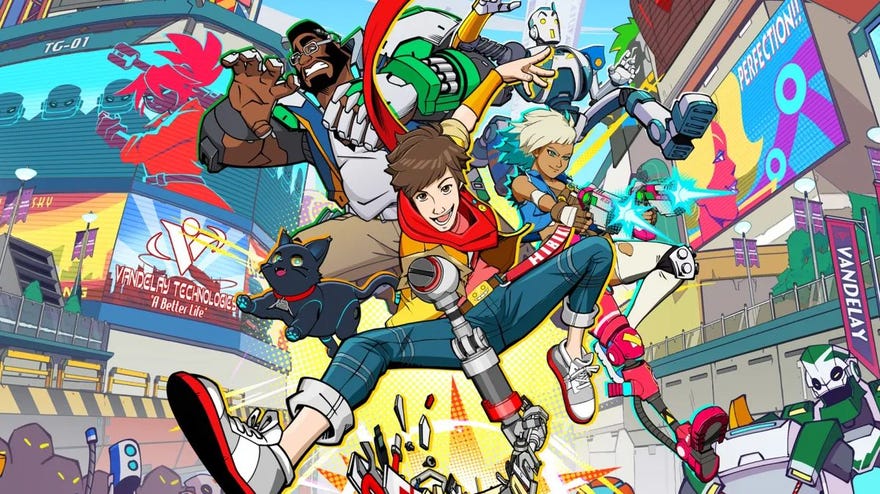 So those Tango Gameworks leaks turned out to be true. After repeatedly stating that this evening's Xbox Developer Direct would feature just four games, it turned out to contain four. Hi-Fi Rush is a new third-person rhythm action brawler from the makers of Evil Within and Ghostwhire: Tokyo. It's a substantial departure from their previous games in terms of style - although there's an even bigger surprse.
The bigger surprise is it's out now, so you can play it via Game Pass right away.
In Hi-Fi Rush, your attacks and combos add layers to the soundtrack. If you fight along to the beat, your attacks do more damage. You use these abilities to bash through robots in a colourful, cel-shaded city filled with corporate robots.
There was a lengthy game demonstration at the end of tonight's livestream, which you can see part of below. Everything in the game moves to the beat - enemies, cutscenes, environmental obstacles - The idea is that you're rewarded for hitting the beat rather than punished for missing it, though.
I love the look of the game. Cel-shared or generally cartoony is an easy thing to get wrong, and to make look flat, but the character and world design here looks superb. Surpsisingly even the gags worked in the video worked for me, in a Saturday-morning-cartoon kind of way.
If you want to try it, there's no need to wait. Hi-Fi Rush is available for PC via the Xbox store for £30, or it's also available as part of PC Game Pass. I always hoped someone would do the "and it's out now" thing.