How to unlock the ZRG 20mm sniper rifle fast in Warzone and Cold War
The best loadout to unlock the ZRG 20mm sniper.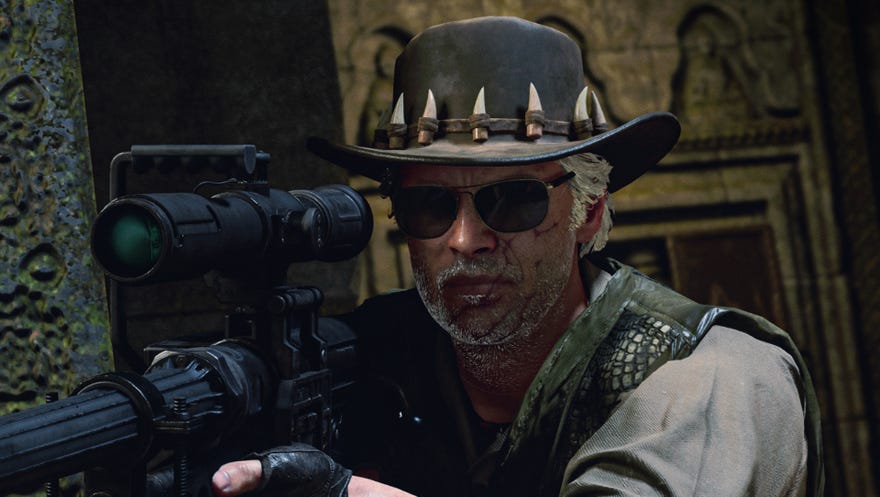 Fancy a ludicrously high damage sniper rifle in Cold War and Warzone? Well, the ZRG 20mm is for you. This one deals a one-shot kill everywhere but the legs in Cold War, and compensates by having a horrendously slow fire rate. Here's a guide on the requirements and best loadout to unlock the ZRG 20mm sniper rifle in Warzone and Cold War.
---
On this page:
How to unlock the ZRG 20mm in Warzone
The challenge you'll need to complete in order to unlock the ZRG 20mm is this:
Using sniper rifles, earn 2 Longshot medals in 10 different matches.
It should go without saying that you'll want to play Black Ops Cold War to unlock the ZRG 20mm, if you own it. It'll make your life so much easier. However, if you're only in Warzone never fear - just run a sniper loadout and try for those sweet headshot kills. My best Kar98k loadout or best LW3 - Tundra loadout might be handy there.
If you're struggling, check out these tips to help you unlock the ZRG 20mm faster in Black Ops Cold War and Warzone:
Stay in the match until the end. If you quit the game after getting two longshot medals, your counter won't actually count that match as a notch on your unlock.
Play on a small map mode. Nuketown 24/7 or Miami Strike 24/7 work fine for this as long as you find the sightlines to ensure those longshots can get hit.
If you don't own Black Ops Cold War, head into a game of Plunder in Warzone. Here, it'll be so much easier to actually get those sniper kills since you spawn in with your loadout and get a bunch of chances to get kills. Of course, it'll take a little longer to complete, but it's better than having to buy a whole new game.
In Cold War, play Team Deathmatch or Kill Confirmed - these game modes tend to last slightly less time so you can get the entire game out of the way quicker and be on your way to more longshot medals.
Make sure you actually get the longshot medal. It'll pop up in the upper-middle area of the screen after you get your kill.
You're also able to buy the ZRG 20mm sniper rifle if you fancy. It'll cost you 1200 COD Points, which ends up being between £9 and £12, depending on which COD Point bundle you buy. You're looking for the Jackpot Sniper bundle, which offers you the 'Big Shot' ZRG 20mm blueprint (which does look really slick, to be fair), the 'Million Dollar Chip' charm, the 'Big Spender' emblem, and the 'Full House' sticker.
---
Best loadout to unlock the ZRG 20mm sniper
Here's my favourite loadout to unlock the ZRG 20mm sniper rifle:
Primary Weapon: LW3 - Tundra
Secondary Weapon: R1 Shadowhunter
Tactical: Stimshot
Lethal: Semtex
Field Upgrade: Field Mic
Perk 1: Flak Jacket
Perk 2: Gearhead
Perk 3: Ninja
Wildcard: Gunfighter
Your secondary weapon doesn't matter that much if we're honest - I just put the R1 Shadowhunter because I like it and it's fun to switch to after getting a couple longshots. Here's the attachment combo (including Gunfighter) I use with the LW3 - Tundra to unlock the ZRG 20mm:
Optic: Royal & Kross 4x
Muzzle: Sound Moderator
Barrel: 26.5" Hammer Forged
Body: SOF Target Designator
Underbarrel: Bruiser Grip
Magazine: 7 Rnd
Handle: Airborne Elastic Wrap
Stock: SAS Combat Stock
Of course, whichever sniper rifle works best for you is the one you should use. Some people love the Pelington 703 for whatever reason. I reckon there's even some wild child out there using the M82 to complete this challenge. It's all up to you.
---
How to equip the ZRG 20mm in your loadout
The ZRG 20mm can be found just under the rest of the sniper rifles in both Cold War and Warzone. It'll be labeled as Sniper Rifle Delta, and you can equip it and start leveling it up immediately after you complete that 10th notch on the challenge.
We'll have a best ZRG 20mm loadout on the site soon once it's been played a little bit more.
---
There you have it - exactly how to unlock and equip the ZRG 20mm for Warzone and Cold War! It's not too difficult a challenge and it'll definitely shake things up for sniping fans out there. The low fire rate might be problematic, but that doesn't matter if you don't miss! For more from RPS, why not check out the latest episode of our Warzone Audio Bang podcast, or have a look at other classes of weapons like the best Warzone Assault Rifles in the game.