Mojang Give The Gift Of Giving: Scrolls Free For A Friend
Free for enemies also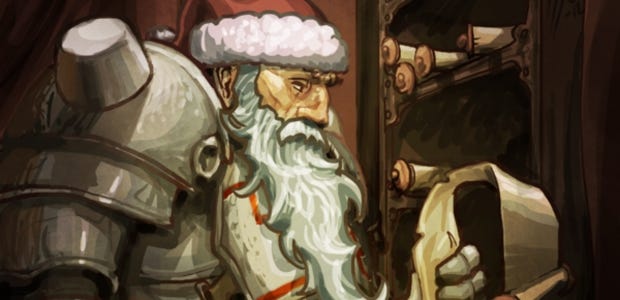 Fans of collectible card games have a lot of games to choose from lately, but this is an incentive for getting involved with Scrolls. The Magic: The Gathering inspired game by Minecraft-creators Mojang is offering a Christmas gift: if you own the game, you now have a free copy you can gift to a friend.

As explained over in a post on the Scrolls website, you can get your free friend code by logging into your account, clicking "Send to a friend" and entering an email address into the box that appears. The codes will expire on January 31st 2014, but as long as your buddy redeems it before then, you can play together forever.
Scrolls mixes together card battling with territorial defense mechanics more familiar from boardgaming. Since its release into paid-for beta in June, Mojang have been releasing regular updates to add new content or re-balance existing parts of the game. Most recently that included achievements, and a testing grounds for trying out new, in-development game modes without hurting your in-game ranking.
Mojang also operate a Scrolls development tumblr, where the game's creators go into greater detail about the reasoning behind certain changes. Here's the content of a recent post:

Nice.
Hit up the official Scrolls site to get the game or send your free code.