Observer wants you to feel catharsis and hack brains
Catharsis 2.0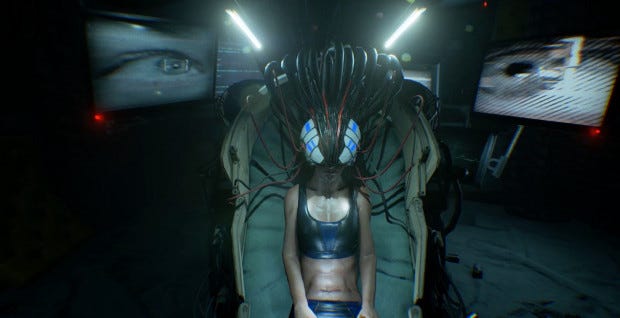 Observer [official site] is the latest horror romp from Bloober Team, the folks behind Layers of Fear. The developers feel that players didn't quite get their last game, so for Observer's new trailer, they're aiming to explain not just the game, but the 'hidden horror' genre that it's part of, as well. Watch it below.
"A few people who played Layers of Fear went into the experience expecting survival horror, and were naturally disappointed in our lack of machetes and missile launchers," the video notes, confusingly. I can't say that I normally equate survival horror with lots of weapons.
Observer isn't about machetes and missile launchers, either. It's an exploration of technology infiltrating our lives, putting players into the shoes of a 'neural detective' who hacks brains in an effort to solve crimes and mysteries. Exploring these things, apparently, is the first part of hidden horror. The second part is catharsis.
"That's some next level catharsis right there!" is the strangest sentence I've heard today. Bloober Team want to make people confront their fears and then let them go – fears that you might not even realise you have. That's what Bloober Team are calling 'Catharsis 2.0', which sounds like a terrible therapy app.
Given that Layers of Fear, with its obsession with spooky dolls, was about as subtle as a brick to the face, I'm not entirely convinced, but I'm also holding out hope that Observer will help me get over my fear of forever being a broke game journalist.
Observer is due out this summer.