Outer Wilds fan makes a functional version of the alien translator
The latest in Earthian technology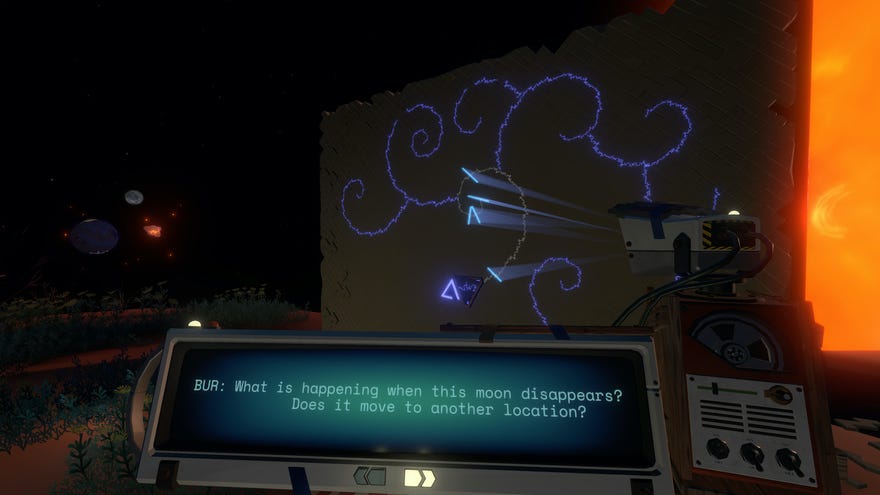 The enigmatic system of Outer Wilds is packed with scary things you wouldn't want running around in real life: spine-tingling cosmic anglerfish, endless time loops, and a bunch of existential dread. (Oh, wait a minute.) Although, the spacefaring adventure has at least one tool that would be handy in everyday situations: the translator. One Redditor has thankfully recreated a functional version of the translator and this clip shows the delightfully faithful tool.
The revolving planets in Outer Wilds have walls full of an ancient hieroglyphic language that you can scan and then translate onto a blue handheld screen. Redditor u/Snicker-Snag's tool supposedly translates Spanish, French, and Japanese into English. So, it's not the latest in Hearthian technology, although it looks exactly like the in-game tool.
"This translation isn't actually handled on the device," u/Snicker-Snag explained through a comment. "The device captures an image then sends it to my phone over bluetooth to use Android's offline image-to-text and machine translation APIs." Their phone then sends the translation back to the blue screen to be displayed. The can of marshmallows in the video, however, is empty. But I'll ignore that lore inaccuracy due to how obviously impressive the device is.
The origin of the device is quite simple: "I played the Outer Wilds back around the end of 2022 and got the idea in my head at some point that a functional translator should exist," says u/Snicker-Snags. They "might eventually post all the files" for the project online, which would allow fans to create their very own replicas or improve upon the already-great work that's here. Sounds almost like a missed merchandising opportunity for Mobius Digital and/or Annapurna Interactive.
One of my favourite things in Outer Wilds is the translator tool. Every time I discovered the alien squiggles, I'd excitedly whip out the tool, eager to learn more about a bygone civilisation. A quick animation surveys the wall, the device beeps and boops, the screen flashes with jumbled-up code, and then bam. You've got some fun, or educational, or confusing, or distressing bedtime reading. The fan-made tool recreates most of that animation - complete with the plucky guitar in the background - and that makes me a happy Earthian.
That's one small source of joy, found in an overall great game. "Overflowing with a toyish love of astronomy and physics," Brendan Caldwell said in our Outer Wilds review, "it jettisons stuffy formulae for adventures on dangerous planets full of sand, and one-way trips to icy comets hurtling around the sun. We don't do star ratings on RPS, but if we did I'd give Outer Wilds a small galaxy."
Outer Wilds is usually £21/€23/$25 on Steam and the Humble Store, but it's currently enjoying a -40% discount on both storefronts. The excellent Echoes Of The Eye expansion is also on sale.