Playerunknown's Battlegrounds getting Battle Royale-ier
Just like in the movies!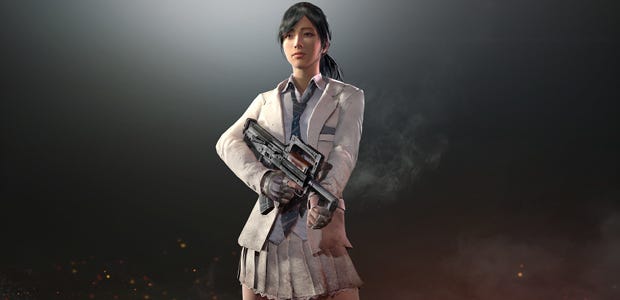 Battle Royale 'em up Playerunknown's Battlegrounds is to get explictly Battle Royale-y with new outfits based on the movie which launched a thousand early access ships. Most of these will only be available in a special crate which will only be available for a limited time and, to raise money for a Plunkbat tournament, will cost $2.50 to open.
Unfortunately, the big 'monthly' update expected this Thursday has delayed back to next week, held up by a now-smashed bug. It will, when it gets here, add the promised first-person-only servers.
Three new clothing crates are coming to Plunkbat alongside July's belated monthly update on August 3rd. Two will be regular crates, redeemed simply with the murderpoints we earn as we play, but one will require a 'key' to unlock. Putting a paid crate & key system into a game that's still in early access does tend to rub me the wrong way, though this is for a specific purpose and only for a short while.
Plunkbat's Gamescom Invitational will be supported partially by sales of those special loot crates, as is the way with many tournaments these days. The $2.50 crate keys will go towards the prize pool, the costs of running the tournament, and also charities, creator Brendan 'Playerunknown' Greene said in today's announcement.
All three new crates will have Battle Royale clobber but by far the most are in the Gamescom Invitational Crate, which will only be sold August 3-27th. Hit the announcement for pictures and details of the lot.
Onto July's late 'monthly' update. The holdup is "due to complications with a client crash bug last week", Plunk explains. When it does arrive on August 3rd, expect a new rifle, a field of view slider, and a server option locking players into first-person mode. That last one will initially only be available on the North American and European servers for Solo and Duo queues. I'm still waiting eagerly to hear more on when we'll get climbing and vaulting, which will hugely change how fights go down.
The small 'weekly' patch coming instead of the monthly this week, on Thursday, will fix a few bugs. Doors are less gittish, mostly.
I often buy a Dota 2 tournament crate or two but think I'll pass on Plunkbat's Gamescom Invitational Crates. While some outfits look good and I think individual garments of others could be salvaged, as an item pool it has too many ugly bits for me to risk actual money.
Plunkbat's fashion is broadly terrible, mind. It has some okay basics but anything with 'personality' is hideous. All these dreadful leather coats with one armoured sleeve and laces and rings all over, the pocket on shirt sleeves, the boots covered in spikes, the Matrix shades, the Twitch Prime outfit which tempts me to teamkill... it's all like an xtreme '90s comic book.
I am content with the outfit I've pulled together but it's a shame that the big loot rewards mean nothing to me now I have an acceptable look. Every crate gives me items I don't want, and they will continue to until Plunkbat improves its fashion design.
Still, I live in hope for the yet-unrevealed, non-Battle Royale garments coming in those two non-paid crates on the 3rd.
I am quite jealous of the squidkid looks I see my chums rocking in Splatoon 2. It even has distinct fashion brands!