Rainbow Six Siege halts plan to replace standard edition with pricier one
Foolishness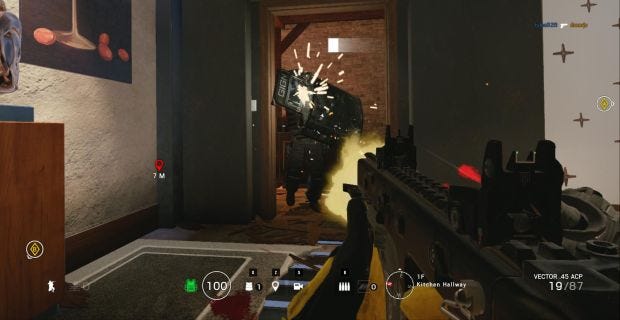 Ubisoft have reversed plans to replace the $40 Standard Edition of Rainbow Six Siege with one that cost $20 more but offered only some virtuacash and a few of the new cosmetic-only loot crates in return. This $60 'Advanced Edition' did not seem a good deal and, with Ubisoft having managed to rebuild and improve Siege to become an actual hit, it seemed daft to make the game less welcoming. Well, having announced the price hike on Thursday, by Friday Ubisoft were convinced that it was a bad idea and changed their minds. The Standard Edition will stay.
So! The Advanced Edition, is still coming, containing the game plus 600 Rainbow Six Credits (sold separately for about £4), which is the paid microtransaction currency existing alongside a virtuacash earned by playing, plus ten Outbreak Packs.
These are upcoming loot crates containing purely cosmetic items, which will be sold for 300 R6 Credits - so for about £2 in real money, basically. Items include new weapon skins, hats, uniforms, charms, and so on. Ubisoft do say players will not get duplicates of the Outbreak items as they open packs, but that's still a worse option than just letting people buy exactly which items they want.
Anyway! They will not railroad new players into buying the Advanced Edition.
"For our newcomers and those of you concerned about introducing your friends to the game, we will be keeping the Standard Edition in the store at the current price," Ubisoft said in a post on Reddit on Friday evening.
The price of the Complete Edition will still go up, mind, as it will include the Year 3 season pass as well now.
It sounds like Ubi also recognise that Siege's cheaper Starter Edition is trash. This is the version which costs only £12/$15 but takes far longer to unlock new characters, which makes it initially seem a great way in but then just awful.
"We recognize that this has been a point of frustration for new players," Ubisoft say, "as well as existing players bringing their friends into the game, and have been working on how to make this process more fluid."
It is weird how Ubisoft do some parts of Siege so well then muck up others. A steady string of updates, improvements, and additions (partially supported by the sale of season passes instantly unlocking the new characters) have really improved the game, making it one of the most-played games on Steam (and therefore PC). Steam's public concurrent player counts over the past day show it's behind only Plunkbat, Dota, CS, and GTA V - esteemed company. And then they make rubbish editions and loot crates and ugh. I assume The Suits in management are handing down some bad decisions down from on high and the dev team just have to try to make it work.
As an apology for the Standard/Advanced foolishness, Ubisoft will give the upcoming Ash Sidewinder Elite skin for free to everyone who plays an online match by March 6th.
Oh, and Outbreak itself? That mysterious new cooperative mode, set inside a small town quarantined due to a mysterious infestation, is coming alongside the Year 3 Season 1 update. It'll be available for four weeks. I believe the update launches March 6.