Robonazis A Go-Go In Wolfenstein: The New Order Trailer
New 'gameplay' trailer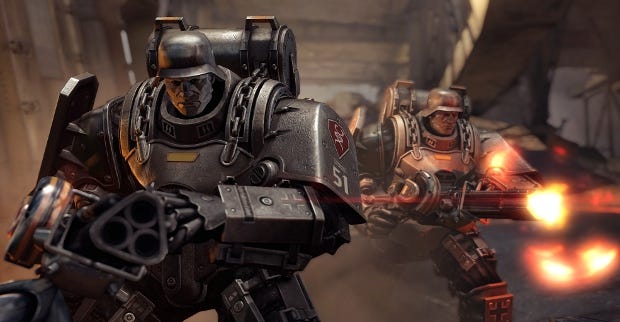 We broadly accept space-Nazis and robo-Nazis in video games because they're so fantastical, but Wolfenstein: The New Order's marketing strikes an odd note. Take this new trailer, which mixes Nazi robodogs with a Nazi referee gunning down a player in the 1950 Brazil World Cup. This is comic book villainy, certainly, but it's a touch tone-deaf to have goofy Nazi atomic robomen while cracking jokes about what else the Nazi regime might have killed people for had it continued. The blurring of real and fictional is a bit off.
Curiously semi-serious plot aside, it is looking awfully pleasant, with chunky great guns, power armour, robodogs, and leaning to shoot around corners (leaning in a mainstream FPS! oh joy!).
Dan and Jim both enjoyed time they spent with The New Order, because they say it's a really fun game for shooting men (and robots) in. That's broadly what I want from it too.
Wolfenstein is due on May 20. It's the debut game from MachineGames, which was founded by veterans of Starbreeze--a studio which has certainly delivered solid man-shooting.