Make America gert big again: Truck Simulator rescale now in open beta
You voted for this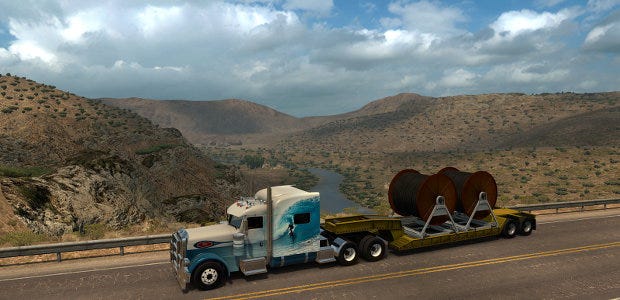 The people have spoken, and they want America proper dirty gert big. Leading ideas in the office of President-elect Trump include switching to metric so distances sound greater, breeding miniature cows to mess with perspective, and raising the bedrock on pneumatic lifts so the ground is closer to everyone's eyes. Good ideas, okay, very smart. The biggest. You'll love them. But in American Truck Simulator [official site], developers SCS Software have simply made the whole dang land bigger. They've been working on rescaling the world of their haul 'em up, making it larger and more interesting, and players can see the results themselves now in an open beta.
The rescaling project means longer distances between places, naturally, and SCS have squeezed another city into the newly-opened space, but it's also trying to make America grander. They've added more assets to build the world from, made landscapes more varied, made cities more detailed, and so on.
This will officially launch with version 1.5 but the update is now in open beta if you want a peek now. SCS said yesterday:
"Some places could still benefit from additional love, but the pieces of the puzzle are already in place, and now we would appreciate your feedback. Please keep in mind that our goal was not to completely rebuild the whole world, so set your expectations accordingly. Changing the scale from 1:35 into 1:20 gave us a lot more room for better placement of intersections and interchanges, and a chance to introduce some roads and places for which there was not enough space in the old map. But we've kept in place the parts that were working as expected in our view, so of course you will still recognize most of the destinations."
Check SCS's blog post for instructions on how to get the beta update, and for details on technical changes also coming with update 1.5.
How much is changed? I couldn't say yet. I fired up the beta for a quick run from Redding to Eureka, a route I like for winding through valleys and over rivers, and... it was night so I couldn't see much. It did still feel bigger, grander, more detailed, and more American. The screenshot up there ↑ is provided by SCS while this one ↓ down here was what I saw. I'll be happy to return in daylight.
As for making America big-bigger, we've still to hear much concrete information about adding more states.