Spooky fishing sim Dredge lays out plans for a passive mode, paid DLC and more
Hooked a roadmap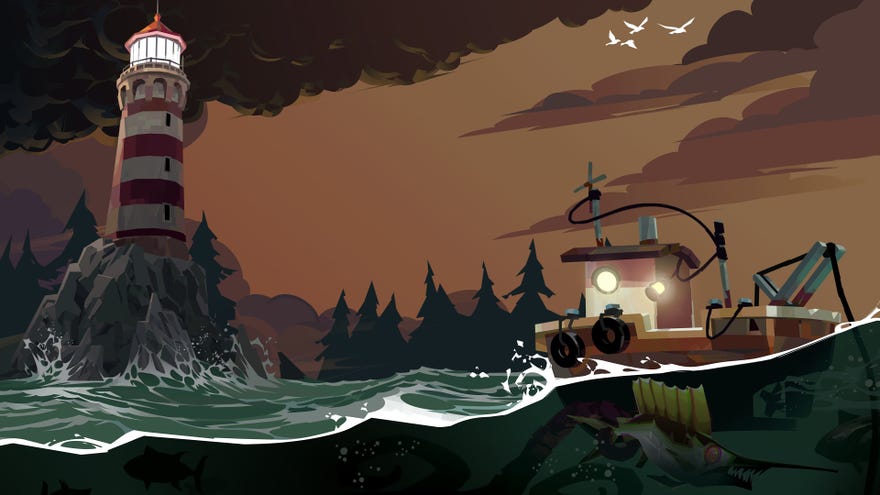 The underwater scares of Dredge are about to run even deeper. Developer Black Salt Games have revealed a roadmap for their spooky fishing game, promising four new bits of content coming over the next year including a chiller passive mode, nice quality-of-life additions, and a larger paid DLC pack with a new non-eldritch horror threat.
The roadmap starts with a much-requested map marker feature that should be arriving before the end of June, letting you place colourful icons to represent shipwrecks, mysteries, and other eye-catching stuff under the waves. Essentially, this update lets you properly role-play as a fisher lost at sea, trying to navigate the waters with scribbles on a map.
A second update (also coming before the end of June) will add two new modes, starting with a photo mode. Rather than automatically placing a camera in your inventory, though, a new in-game character will guide you through your infantile camerawork. They'll help you unlock your camera ability, and then send you off to snap pictures of mutated three-eyed fishies and immortal dogs.
The other one is the optional passive mode. Dredge doesn't quite capture the meditative quality of actual fishing, mainly because there's a bunch of incomprehensible cosmic horrors waiting just below the surface, ready to wreck your boat and chomp at your remains. Passive mode changes that as monsters will no longer attack you, so you can treat Dredge like the serene, sparkling fishing sim you might want.
The third update (coming between July and September) brings boat customisation with funky flags and different paint schemes. Patterned designs probably won't deter blood-hungry sea beasts, but it will let you speed away in style.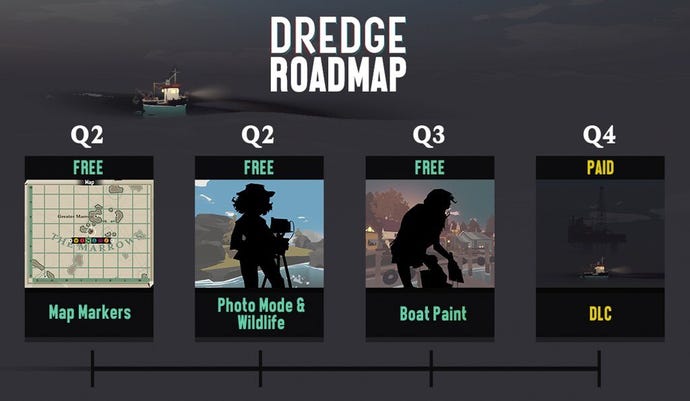 Finally, there's the paid DLC pack coming at the end of the year which focuses on the ominous Ironhaven Corporation that was teased during the base game. "They're looking to establish an innovative drilling operation in the area," the developers wrote in a PlayStation blog. "As you gather materials to construct new buildings and biomatter to fuel a rig, meet new characters, craft new equipment, and catch new fish, you may uncover the truth behind their potentially nefarious operations."
Big industrial companies meddling in the (super)natural world? Ironhaven are probably chasing profits, and maybe they've dug deep enough to unleash new horrors along the way that'll surely come back to bite them. The Blinky-the-fish comparisons are running deeper.
More Dredge is a good thing since Katharine gave the game our Bestest Best stamp of approval in her review. "It casts a wide net," Katharine wrote, "but in the process catches the best and most accessible bits of survival horror, management and exploration games and serves them all up on a glowing, eldritch platter that's simply too good, and too moreish, to ignore."
There's no pricing information on the Ironhaven Corporation DLC yet, but the base game is currently available on Steam for £22/$25/€25.