FIFA 23 Around the World SBC solution
Learn how to complete the Around the World SBC in FIFA 23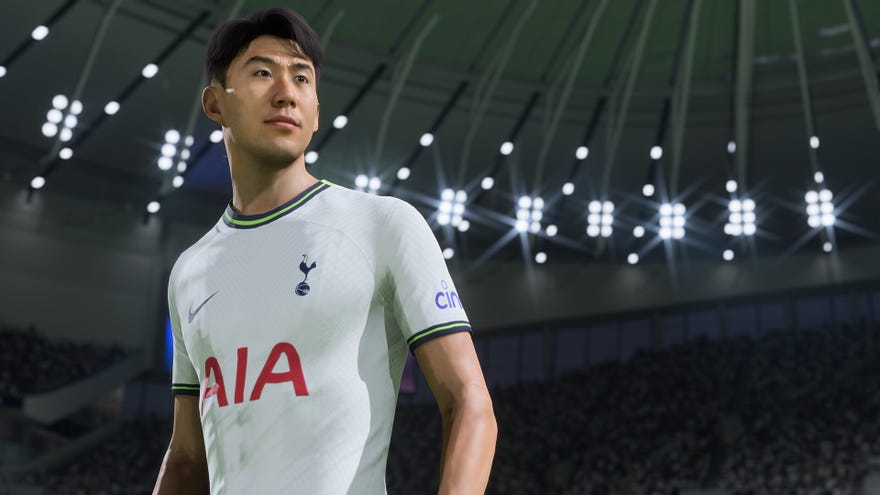 Looking for a FIFA 23 Around the World SBC solution? SBCs, or Squad Building Challenges, have been the best way to get top players for your Ultimate Team in recent years, and FIFA 23 is no different. SBCs are challenges that task you with building a squad under specific criteria, and they often give the best Ultimate Team packs as a reward. There are plenty of SBCs that will get you excellent gold cards, but you're more likely to pull one of the best players in FIFA 23 from rare packs. Fortunately, the Around the World SBC offers a Rare Mega Pack as a reward, which has made it a fan favourite since early access launched.
In this guide, we'll break down the easiest FIFA 23 Around the World SBC solution, so that you can open a Rare Mega Pack and get some top players for your squad.
FIFA 23 Around the World SBC requirements
The Around the World SBC is part of the Advanced Hybrid Nations challenge. The Around the World SBC tasks you with building a squad with the following requirements:
Squad must contain players from exactly 10 nations.
Squad must contain a minimum of eight rare players in the starting XI.
The team overall rating must be a minimum of 81.
The chemistry rating per player must be a minimum of two.
The total chemistry score for your squad must be a minimum of 24.
That is a mind boggling list of requirements, but there's no need to panic. We've gone through the transfer market to find the perfect Around the World SBC solution in FIFA 23.
---
FIFA 23 Around the World SBC solution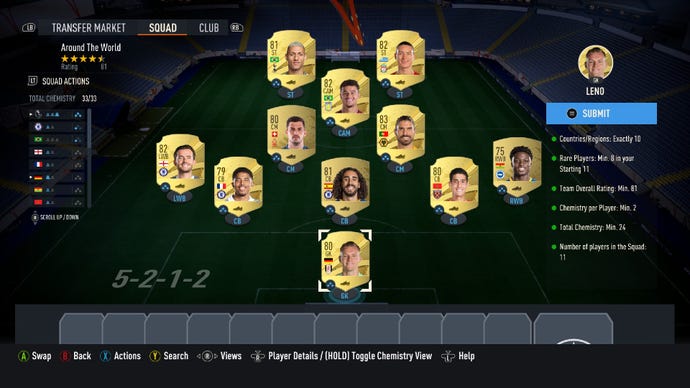 For the Around the World SBC, you'll want to aim for a team of players from the same league. This gives you a wide pool of players from a mix of nationalities that you can throw into your squad, while ensuring that they all have the minimum chemistry of two. For our solution, we decided to exclusively select players from the Premier League.
Below, you can find the full list of Premier League players (and their nationalities) that we used in our FIFA 23 Around the World SBC solution:
ST: Richarlison (Brazil)
ST: Nunez (Uruguay)
CAM: Coutinho (Brazil)
CM: Freuler (Switzerland)
CM: Ruben Neves (Portugal)
LWB: Chilwell (England)
CB: Fofana (France)
CB: Cucurella (Spain)
CB: Aguerd (Morocco)
RWB: Lamptey (Ghana)
GK: Leno (Germany)

As you can see, all of these players are from a different nation, other than Richarlison and Coutinho, who both come from Brazil. Since the Around the World SBC requires players from exactly 10 different nations, you'll need two players who have the same nationality in your starting XI. We also opted for exactly eight rare players, filling the rest of the slots with cheaper common gold cards.

Overall, this Around the World SBC solution should cost you somewhere between 15000 and 20000 coins. However, if you're patient and try to win all of the players through Transfer Market bids, you might be able to get that total price even lower. Regardless, 15k coins is a great price for the Rare Mega Pack, which can give some of the best cards in FIFA 23 Ultimate Team. The Rare Mega Pack includes 30 cards, all of which are gold rares. We got 10 players in our pack, most of which were rated 80 or higher, making them excellent additions to an early Ultimate Team squad.

---

That wraps up our guide on how to complete the FIFA 23 Around the World SBC. For more SBC solutions, check out our guides on the First XI, Puzzle Master, and Seven League Boots SBCs. If you're still itching to get into FIFA 23 and didn't preorder, check out our guide on the FIFA 23 release date and time. If you want to learn more about the changes you can expect this year, take a look at our guide on everything we know about FIFA 23.