I Shot The Law: ArmA Devs Arrested For Greek 'Espionage'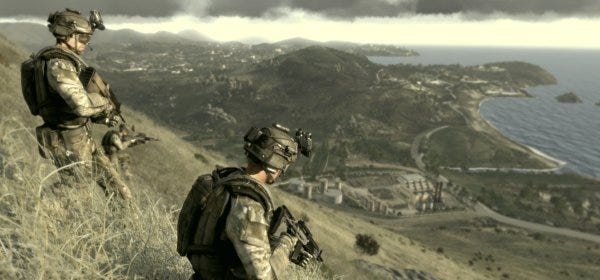 Update: RPS has received a brief status update from the Czech Embassy in Greece. Here it is: "On behalf of the Embassy of the Czech Republic, we can confirm that we are closely following the case. The detainees have their defence lawyer. To avoid any further misunderstanding, the Embassy prefers not to publish any statements at the given moment." We're still waiting to hear back from other sources, but we'll let you know as soon as we do.
Original: Laws. They are - in spite of pocket change lawyer fees and the fact that all law books clock in at well under seven billion pages and consist mainly of pictures - really, really complicated. For instance, in the state of Pennsylvania, doing that cartoon thing where you tie a dollar to a string and pull it away when someone tries to pick it up is actually illegal. And, more pertinently, you absolutely cannot take pictures of Greek-military-related objects. That, apparently, constitutes espionage. In 2001, British plane-spotters discovered Greece was a no-fly zone for that kind of thing, and now two ArmA III devs are learning a similar lesson the hard way.
According to initial reports out of Greece, the two employees - who were caught with both photos and videos of Lemnos military camps and subsequently arrested - claimed to be doing research for ArmA III, which heavily features Lemnos, among other locations.
RPS, however, has received a statement straight from Bohemia claiming that the company was in no way involved with the not-so-dynamic duo's sexy, sexy structural photo shoot. It does, however, plan to lend them any "support" it can.
"We can confirm that two Bohemia Interactive employees, our colleagues and friends, were arrested during their holiday trip to Lemnos. They visited the island with the sole purpose of experiencing the island's beautiful surroundings."

"Since its establishment in 1999, Bohemia Interactive has created games based only upon publicly available information. We always respect the law and we've never instructed anybody to violate the laws of any country. The same is true for Arma 3."

"Currently, all our effort goes towards supporting the guys over there, as well as their friends and families affected by this difficult situation. We sincerely hope that this is an unfortunate misunderstanding of their passion as artists and creators of virtual worlds."
So that absolves Bohemia of guilt, but muddies the waters quite a bit for the employees. Ultimately, in the case of the British plane-spotters, they were acquitted on grounds of misinformation and confusion, but this seems a fair deal more complex than that. I've contacted a number of lawyers and the Czech Embassy in Greece to find out more, so hopefully we'll have a better understanding of how this stands to shake out soon. Until then, though, I can tell you this much: probably don't become a hobbyist military base photographer. It strikes me as a profoundly bad idea. Just, like, in general.