Living Dead With The Consequences: The Walking Dead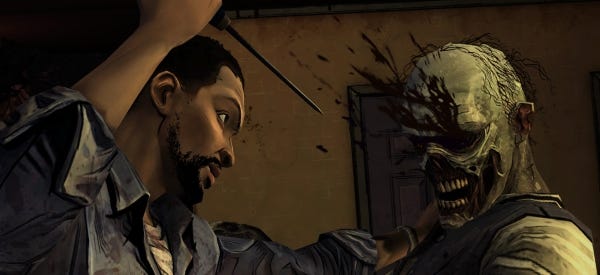 Have you spent the entire weekend asking everyone you've met the two same questions over and over? These questions? "Why does The Walking Dead game not tell Rick's story again? Reading it and watching it wasn't enough." "Could you show me some actual video footage of a person playing The Walking Dead game?"
Unless you happened to be talking to comic book writer person Robert Kirkman or you work at Telltale, you probably didn't receive a satisfactory response. In fact, people probably became uncomfortable after the second time of asking and have now blocked your number in an effort to erase you from their lives. You should have just asked this video.
Actual game footage is at 7.05 and 11.50 or thereabouts. The rest is Kirkman talking, although that's interesting too!
Nobody tried turning the batteries around? I sort of admire the effort to make puzzles from real world problems but if the lead character turns out to be the only person able to use a can opener as well I'll be watching his companions for signs of decreased brain activity and the onset of cannibalistic unlife.
Even though I fear it will be little more than a succession of prompts I'm marginally interested in seeing how the story pans out. I enjoyed the books right up until the Governor unpleasantness, which was a bit like being hit in the face with a large hammer that someone had written "Man is the real monster" on, along with excerpts from several newspaper articles about the inhumanity of actual humans.