Mount & Blade II: Bannerlord's horse archers are mean
Khan it, soldier!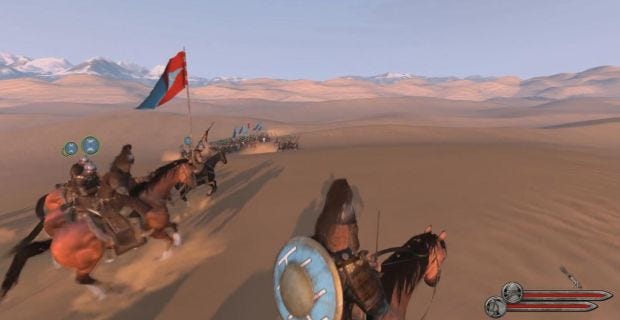 We've seen much of the swords 'n' shields of medieval strat-RPG Mount & Blade II: Bannerlord [official site] over the past year. But you know what we haven't seen much of? Horse archers. Angry hordes of arrow-launching Steppe nomads who absolutely hate using their own legs to walk places but absolutely love using their hands to kill you. Oh look, here they come now.

Thanks to the E3 overload, there's also a trailer showing off a different type of cavalry but I like the harassing Mongol-style jerks much better. We've seen many other details of Bannerlord up until now, including siege defence, talk of new political mechanics, and claims that it will be friendlier to new players. But we still don't know a release date. Booooo.
Never mind. As long as TaleWorlds bring even a little of the same silliness of previous Mount & Blades, I will be happy. I can't wait to see if I can still manage to land in prison mutliple times.