Best skills in Star Wars Jedi Survivor
Discover the best skills in Star Wars Jedi Survivor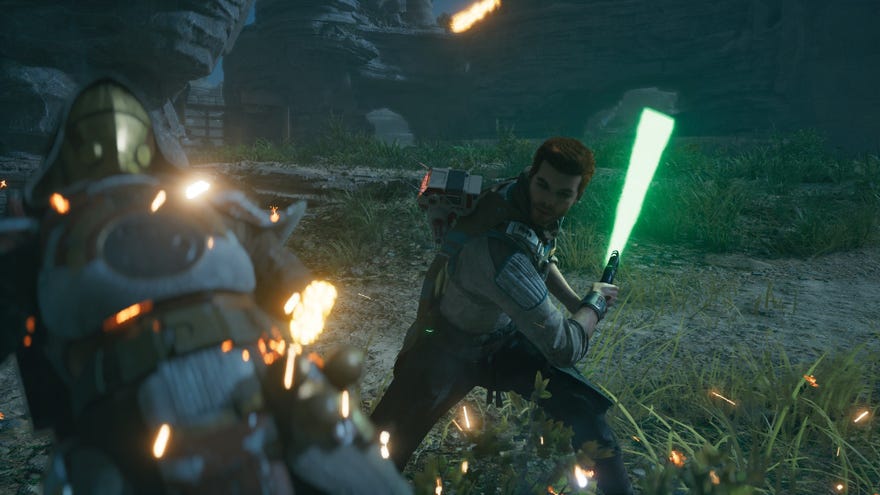 Want to know the best skills in Star Wars Jedi: Survivor? With new force powers and a whopping five lightsaber stances to use in Star Wars Jedi: Survivor, there are plenty of skills in which to invest your precious points. It can all get a bit overwhelming, especially when you're just starting out and aren't sure of the best skills to get first, so we're here to help.
In this guide, we'll break down the best skills in Star Wars Jedi: Survivor, so that you can build the most optimal playstyle for beating the main story. We'll also cover which skills you should get first, so that you can make Cal feel particularly powerful from the start.
Which skills should you get first in Star Wars Jedi Survivor?
The best skills to get first in Star Wars Jedi: Survivor are:
Survival Skills (Resilience)
Improved Stim Formula (Resilience)
Perfected Stim Formula (Resilience)
Teamwork (Resilience)
Attunement (Jedi Concentration)
Wrenching Pull (Double-Bladed)
Below, we'll break down what makes each of these skills worth getting early on.
Survival Skills
Survival Skills is a no-brainer, really. If you're struggling in combat, or are fearing future bosses because you don't think you'll be able to pull through, then more Life is practically a must-have.
More Life makes combat far less punishing, as you'll be able to soak up some extra hits and generally make more mistakes before needing to restart a fight. That dreaded Rancor, for example, wouldn't deliver so many one-shot kills if you came prepared with extra Life, making this one of the best skills early on.
Of course, having more Life means your Stims won't be able to replenish your full health bar without some upgrades of their own.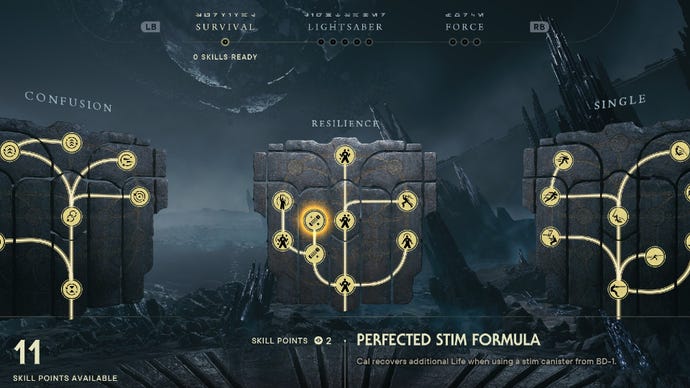 Improved/Perfected Stim Formula
Improved and Perfected Stim Formula go hand-in-hand with Survival Skills, as they raise the amount of Life gained each time you use a Stim. This means you'll need to use less Stims to heal back to full, allowing you to preserve precious heals for later in a fight.
Stims healing for more Life also means you won't need to spend time using multiple successively to recover during a fight. Instead, you'll be able to just pop one Stim quickly, before turning back towards your foe and darting in to deal some more damage.
Of course, if you still find yourself falling short on Stims, you can get more by finding all Stim Canister locations in Star Wars Jedi: Survivor.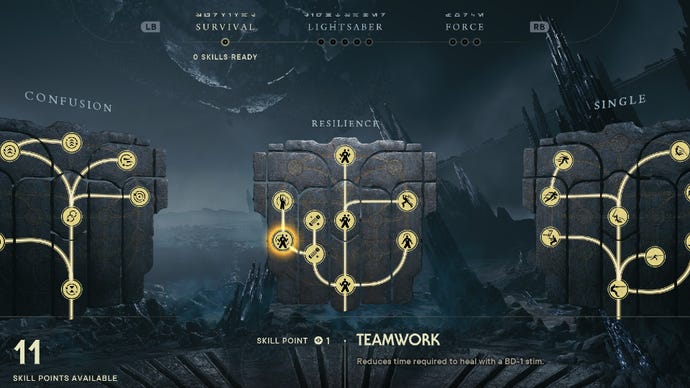 Teamwork
If you want to save even more time, Teamwork is one of the best skills at the start. This skill makes Cal use Stims quicker, meaning you can find shorter windows in which to heal during a fight.
Rather than breaking away from the enemy to get distance before healing, for example, you'll be able to quickly pop a Stim after dodging an attack and leap right back into the fight.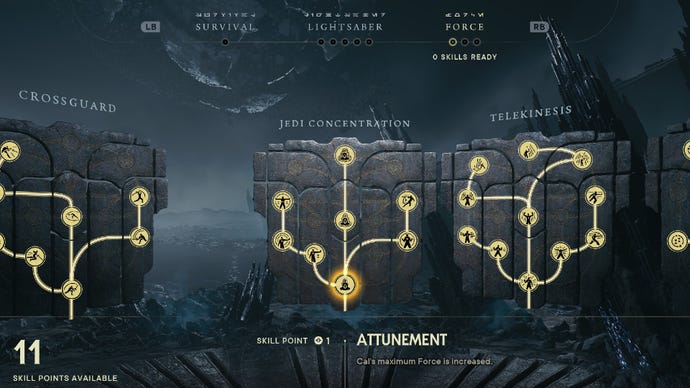 Attunement
We've said a lot about Life so far, but Force is just as important! Without Force, you won't be able to use all of those fancy abilities that make Cal so strong. Pull and Push, Lightsaber throws, Confusion, and so many more abilities rely on the Force, which is why Attunement is one of the best skills.
Attunement increases your max Force, giving you more of this invaluable resource to spend during combat. Your Force does recover during combat, of course, but having more to work with in those early stages gives you chance to pull a chain of powerful moves that'll best most of the enemies you come across at the start of Jedi: Survivor.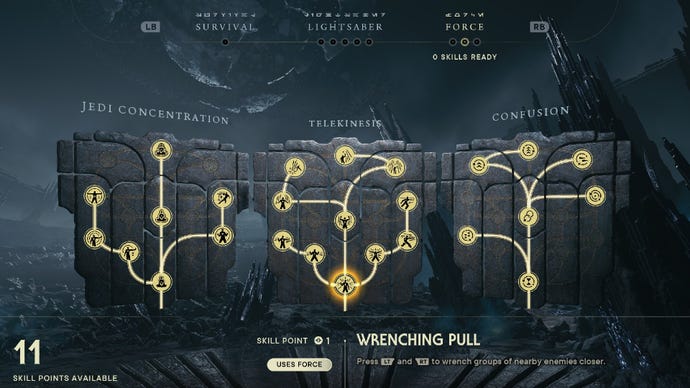 Wrenching Pull
Speaking of powerful Force abilities, Wrenching Pull is excellent early on. If you find yourself facing a group of weaker enemies, such as Stormtroopers, B1 Battle Droids, or Bedlam Raider grunts, then use Wrenching Pull to stagger any that are near Cal. This will also pull them slightly closer to you, so that you can close the distance, stagger them, and leave them vulnerable to some upcoming swings.
Wrenching Pull is most powerful while standing in the middle of a group of enemies, as you can pull them all in and then use the Double-Bladed lightsaber's orbit throw attack (which launches it into a spinning circle around Cal) to quickly damage anything nearby.
---
Best skills in Star Wars Jedi Survivor
There are nine skill trees in Star Wars Jedi: Survivor, and you can find the best skills for each listed below:
The Power of Friendship (Resilience)
Greater Reflexes (Resilience)
Channelled Energy (Jedi Concentration)
Greater/Extended/Superior Hold (Jedi Concentration)
Twin/Unrelenting Pull (Telekinesis)
Parry Rush (Telekinesis)
Greater Confusion (Confusion)
Amplification (Confusion)
Aerial Assault/Ace (Single)
Dash Strike (Single)
Gathering Tempest (Double-Bladed)
Multifold Reflections (Double-Bladed)
Precision Release (Dual Wield)
Dancing Blades (Dual Wield)
Energizing Flurry (Blaster)
Quick Draw (Blaster)
Sundering Swipe (Crossguard)
Rolling Thunder (Crossguard)
Below, we'll break down each of these skills so that you can see what makes them so strong.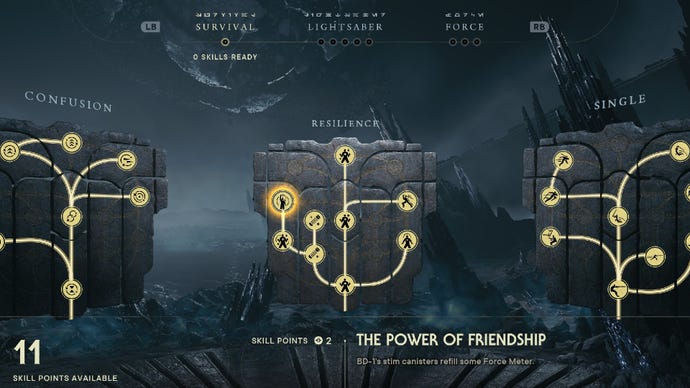 The Power of Friendship
The Power of Friendship costs two Skill Points, but they're well worth spending to unlock the ability to refill some Force from BD-1's Stims.
Stims are obviously used most often when low on health, but if you've also drained your Force through using Cal's powers in combat, then you can refill both with a Stim and quickly get back in the fight. The Power of Friendship might not feel necessary when cutting through a few droids, but it'll help a lot in those tough boss battles.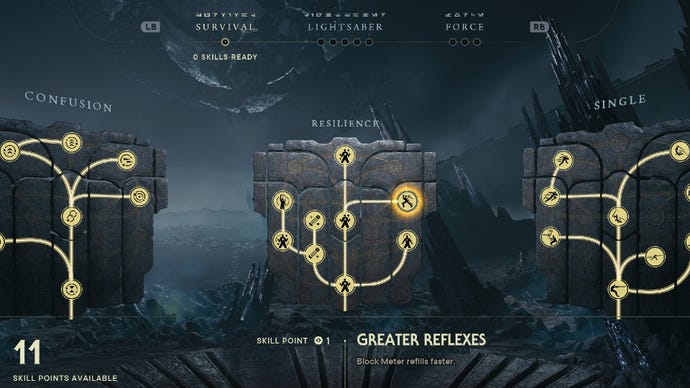 Greater Reflexes
Greater Reflexes makes your Block meter refill faster, allowing you to recover quickly after taking an onslaught of hits. Having plenty of Block is incredibly important if you want to defend against particularly aggressive bosses or large groups of enemies, and Greater Reflexes will help it rapidly refill so that you're never caught without energy to spare.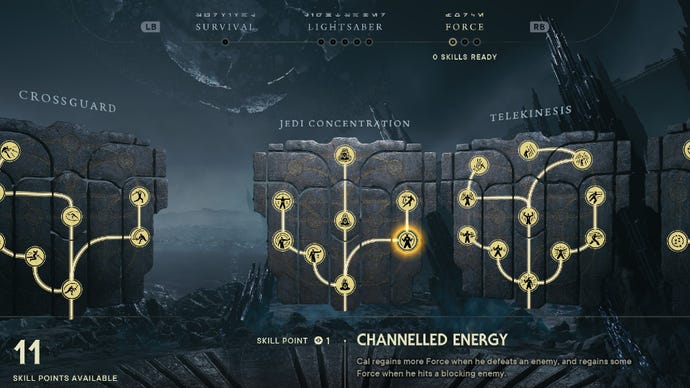 Channelled Energy
Channelled Energy gives you more ways to refill Cal's Force meter, granting a small amount whenever you hit a blocking enemy and restoring more than usual upon defeating an enemy. For just one measly skill point, Channelled Energy will keep replenishing your Force as long as you're aggressive in combat, giving you access to particularly powerful skills when you need them most.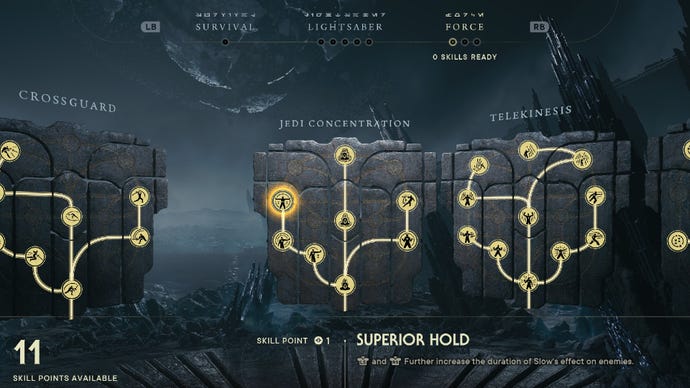 Greater/Superior Hold
Greater and Superior Hold cost one skill point each, and they combine to greatly increase the duration of Slow on your enemies. Using the Force to slow enemies is incredibly useful in Jedi: Survivor, giving you chance to recover or cut through enemies with even more aggression, and extending that window will give you even more control over combat situations.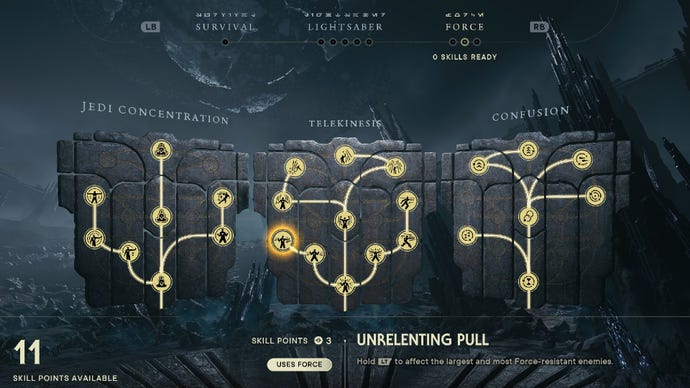 Twin/Unrelenting Pull
Twin Pull allows you to hold two enemies at the same time, allowing you to quickly pluck away at groups of enemies from a distance.
Combine that with Unrelenting Pull, which allows you to make even the biggest enemies in Jedi: Survivor stumble, and Force Pull will become an essential attack to easily win any fight. You won't be able to hold those big baddies, but just having an easy way to make them vulnerable will prove incredibly useful on higher difficulties.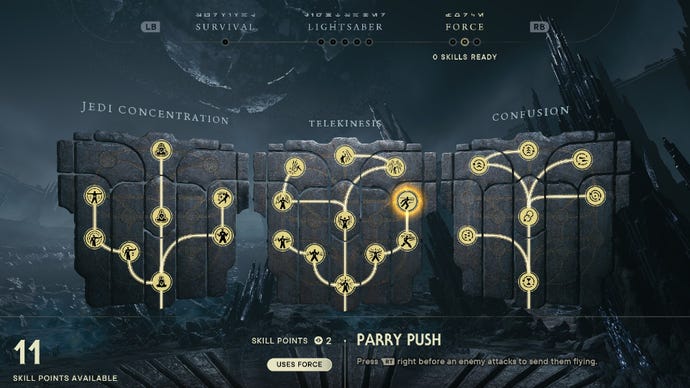 Parry Push
Parry Push offers a new way to counter enemy attacks, with a powerful blast throwing them away and leaving them vulnerable to some easy follow-up attacks. The Push will also knock other nearby enemies to the ground if you're fighting a group, allowing you to quickly cut through crowds with one successfully-timed parry.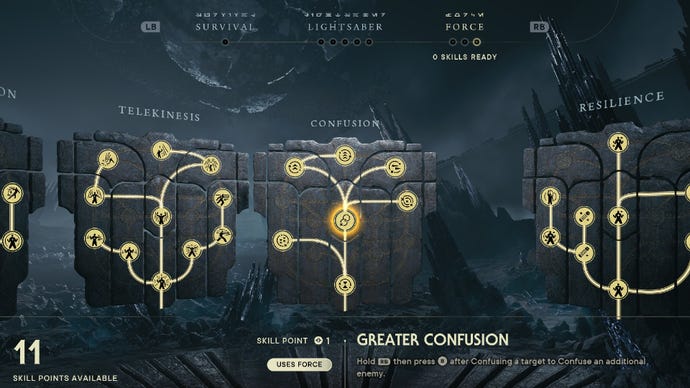 Greater Confusion
Greater Confusion is a simple upgrade - rather than confusing one enemy, you can confuse two! Confusion can be a lifesaver when fighting groups of enemies, especially on higher difficulties, as it turns enemies against each other and gives you a temporary ally during a fight. Doubling up that effect will help you avoid feeling overwhelmed during some of Survivor's toughest fights, making this one of the best skills.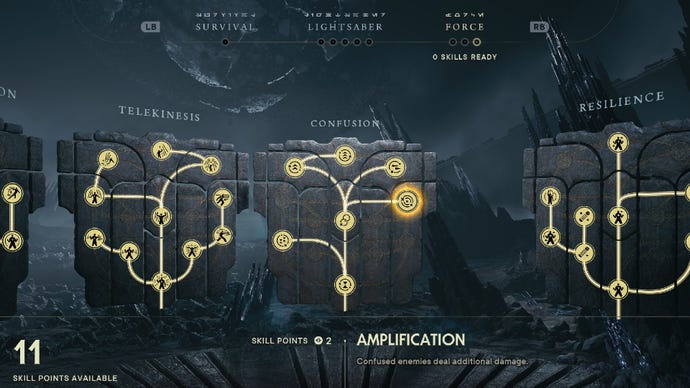 Amplification
Amplification is the best skill to combine with Greater Confusion, simply making confused enemies deal more damage. Having two enemies swinging on their own mates for extra damage is an easy way to quickly cut away at groups of enemies without even needing to get involved yourself.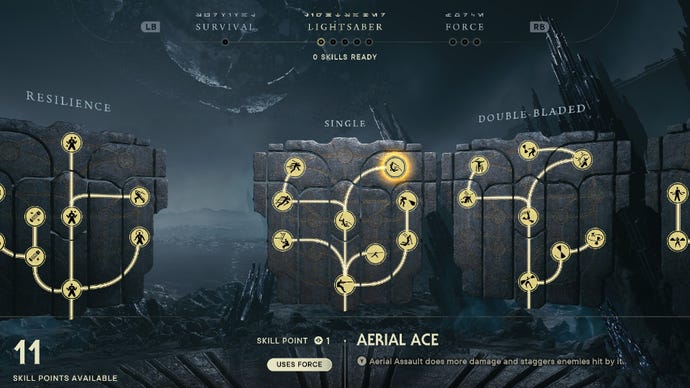 Aerial Assault/Ace
Who doesn't love a good jump attack? Aerial Assault gives Cal an easy downward slash attack that you can use in the air to attack a nearby target on the ground. For just one more skill point, you can also upgrade it with Aerial Ace, causing this attack to deal more damage and stagger enemies.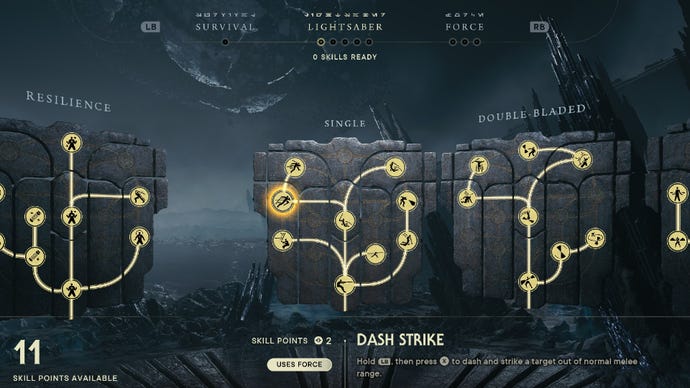 Dash Strike
Dash Strike is another excellent Single blade attack, allowing you to rush towards an enemy and deliver a powerful swing that will almost kill most grunt enemies, such as Stormtroopers and Battle Droids. Even against tougher enemies, Dash Strike is an excellent way to get an easy hit and close the distance, making it easy to deliver some follow-up attacks.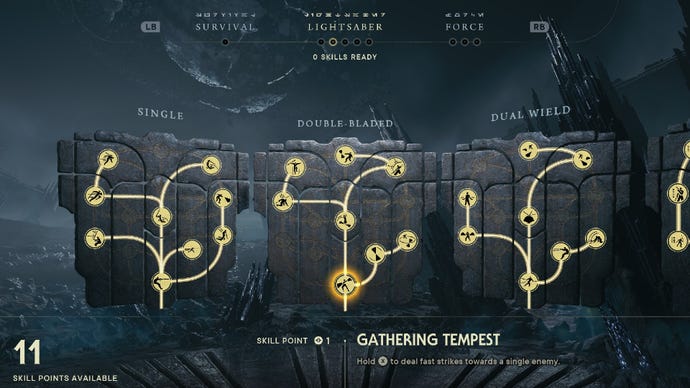 Gathering Tempest
Gathering Tempest is perhaps one of my favourite skills in Jedi: Survivor, allowing you to follow-up with a string of attacks with the Double-Bladed lightsaber. Simply press and hold the attack button after each swing to make Cal keep swinging with fast, powerful attacks that can easily deal with groups of enemies.
The Double-Bladed lightsaber is all about crowd control, and Gathering Tempest will serve that purpose with constant swings that won't give enemies a chance to recover.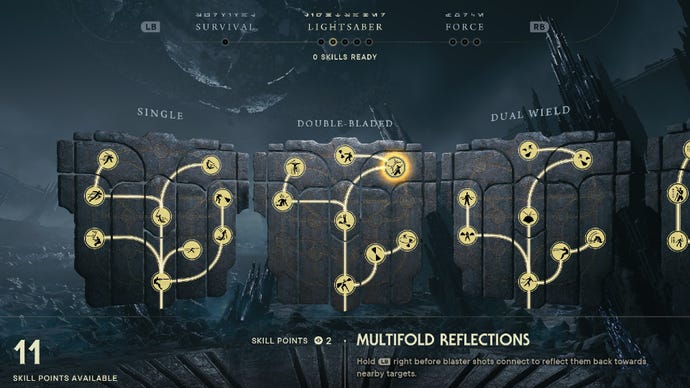 Multifold Reflections
Multifold Reflections is one of the best skills in Jedi: Survivor, and one that you're absolutely going to want at various moments throughout the main story. Whenever you're faced with a Stormtrooper holding a gatling gun, Multifold Reflections will allow you to deflect all of the coming shots back towards enemies.
This turns what should be a tough combat encounter against groups of enemies into a trivial exercise in simply deflecting at the right time and watching them fall to their own blasters.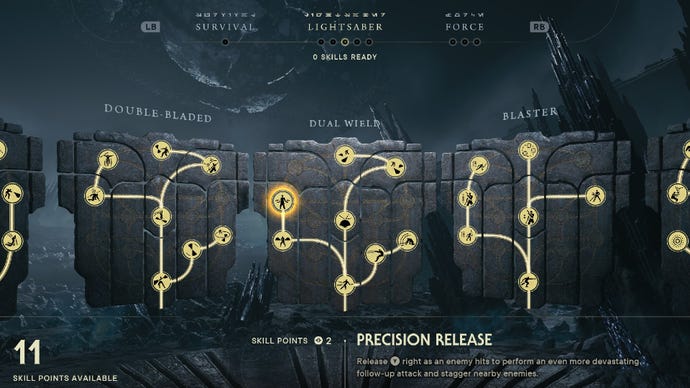 Precision Release
One of the Dual Wield stance's best moves is the Focused Parry ability, which you can use to automatically parry without timing your block.
Precision Release introduces a bit of timing back into this parry, allowing you to deliver an even stronger counter-attack by releasing just as an enemy hits you. If you do this successfully, you'll deal huge damage to the attacking enemy and stagger anything else nearby.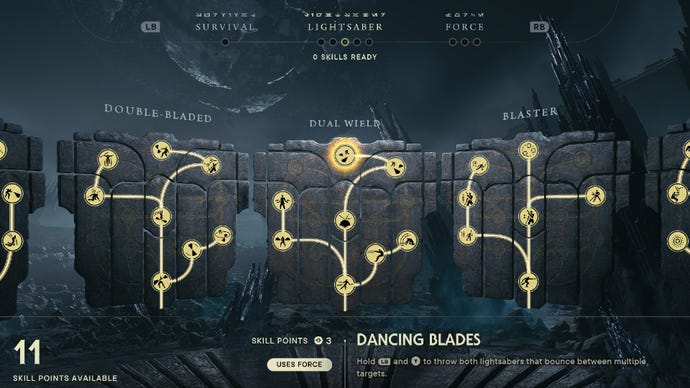 Dancing Blades
A lightsaber throw is always handy for dealing with enemies from afar, but Dancing Blades takes it one step further by launching both blades in the Dual Wield stance. Even better, the blades will ricochet from enemies and hit others nearby, clearing small crowds while you stand back and watch your lightsabers twirl through the air.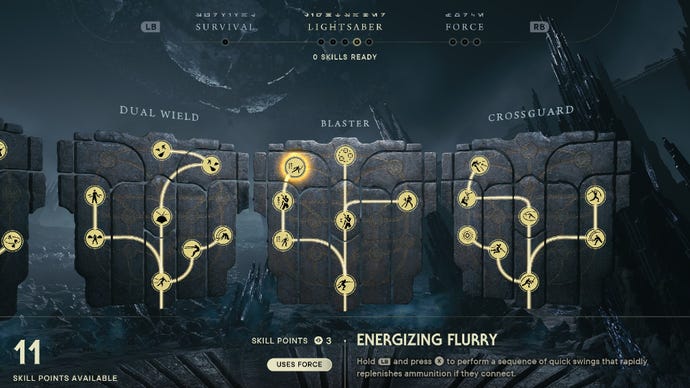 Energizing Flurry
To refill ammo in Blaster Stance, you must hit enemies with your lightsaber. Energizing Flurry makes this effortlessly easy, as it unleashes a quick string of lightsaber attacks that effortlessly refill your Blaster ammo. It's an expensive skill, costing three skill points, but well worth it if you want an easy way to quickly get ammo during a fight.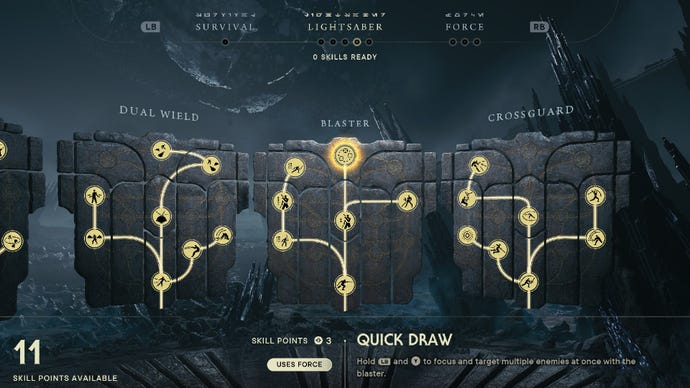 Quick Draw
Quick Draw is the classic deadeye skill in Star Wars Jedi: Survivor, allowing you to quickly lock onto and fire at multiple enemies in rapid succession. It deals huge damage and is an easy way to deal with groups of enemies with your Blaster, making it one of the best skills for this stance.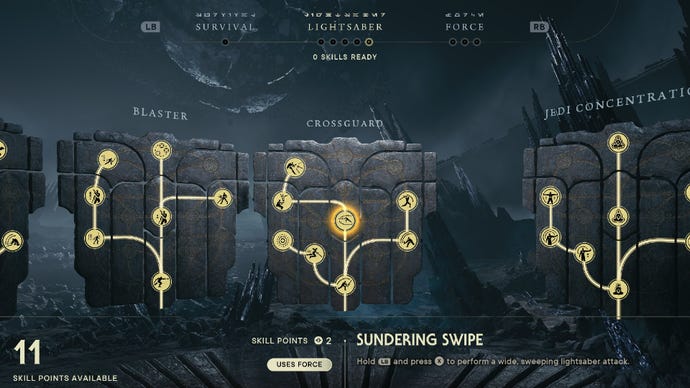 Sundering Swipe
The Crossguard lightsaber is the best stance in Star Wars Jedi: Survivor, and Sundering Swipe is one of its best skills. It's a simple attack, unleashing a sweeping horizontal slice in the direction you're facing, and one that deals massive damage to any nearby enemies. Whenever a group of enemies advance in your direction, use Sundering Swipe to cut them down with ease.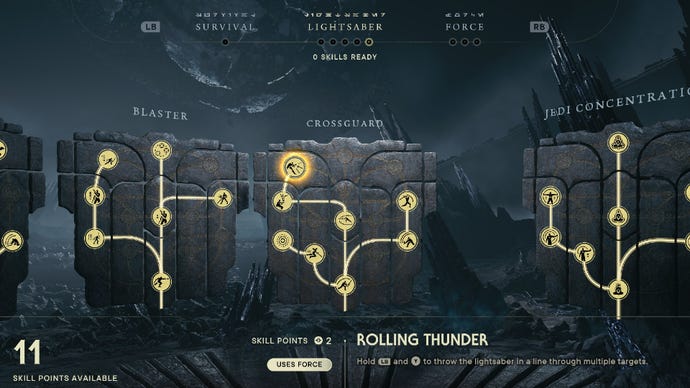 Rolling Thunder
If the standard lightsaber throw doesn't feel brutal enough, check out Rolling Thunder for an attack that absolutely decimates enemies. With this skill, you raise the Crossguard lightsaber above your head before launching it forward, throwing it into an incredibly destructive spin that deals massive damage to any enemies in its path.
The only downside is that Rolling Thunder takes a moment to charge up, but it's one of the best skills in Star Wars Jedi: Survivor if you manage to pull it off.
---
That wraps up our guide on the best skills in Star Wars Jedi: Survivor. If you want to get even more powerful, take a look at our guide on the best perks in Star Wars Jedi: Survivor. If you're ready to 100% the game, check out our guides on where to find all Koboh collectibles and where to find all Jedha collectibles in Star Wars Jedi: Survivor.