Doctor Junkenstein returns to scare up some Overwatch co-op next week
It was a graveyard smash~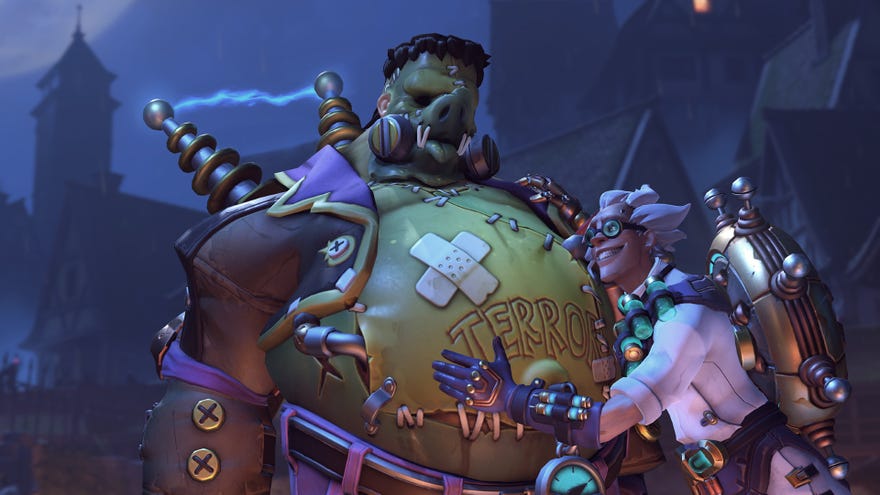 It's Skeleton Appreciation Month, and Blizzard are wasting no time beating the hype-drum for Overwatch's nearly-month-long Halloween event. Starting next Tuesday, October 9th and running until Halloween itself on the 31st, the Halloween Terror event brings its usual slew of silly seasonal costumes for Overwatch's cast of sci-fi heroes and villains. Plus, a teaser suggesting that this year's co-op event might be a little different - check out Blizzard's ever-so-tiny clip below.
In past years, Halloween Terror was a single Brawl-type co-op event, played on a special arena based on Eichenwalde. Players fought against waves of robots (spooky zombie robots, of course), with the occasional mini-boss fight against a Halloween-costumed hero-turned-minion of the nefariously Australian Dr. Junkenstein. The teaser suggests something a bit different this year, as the Château Guillard deathmatch map appears to be getting a seasonal makeover. Word is that Junkenstein's Monster has found himself a bride, too - possibly a glammed up Widowmaker?
There's a rumor among explorers
About a monolithic lair
Home to terrifying horrors
Heroes, how will you prepare? pic.twitter.com/XK7W7e0SKA

— Overwatch (@OverwatchEU) October 1, 2018
Of course, the main appeal for Halloween Terror events for many is in its silly costumes, wall-sprays and other crate-borne cosmetic goodies. Blizzard like to tease those over the week or so leading up to each Halloween event, so keep an eye on their official Twitter feed (or us, for that matter) for breakdowns on the latest retro-future-goth fashions as and when they roll out the catwalk.
It's probably worth a mention that Overwatch is headlining the current Humble Monthly, ending on October 4th. $12 (roughly £9.20/€10.40) gets you Overwatch, Dungeons 3 and Hidden Folks now, and an extra bundle of games on the 4th - this is the cheapest Overwatch has ever been. If you've had your eye on the game, now would be the time.