Dodging the long-armed horrors of Little Nightmares
Cymbolic monkeys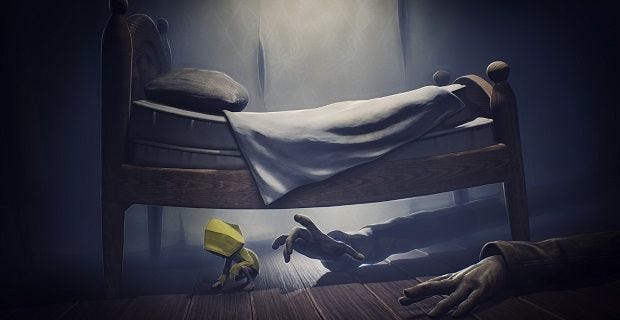 Little Nightmares [official site] stars a fairy tale terror tot, cloaked in a yellow hood and traipsing through a world that is a couple of sizes too big for her. She's being held captive in a horrible floating dollhouse full of long-armed, stubby-legged man-things and sad, grasping cooks. We know all this because we've been told before. But there's a new trailer out which shows some of what you'll actually be doing among this grim vessel's household. Mostly it's about throwing your toys about.

Comparisons to Playdead's INSIDE are inevitable, although our Adam had a hands on with it last year and said that "the depth of the environments and reliance on stealth ensure that any comparisons wither quite quickly." But he would say that. He loves the horror genre. I saw him kissing it behind the bike shed last week.
There were a dozen tongues.
The gang behind the game, Tarsier Studios, have previously worked on Little Big Planet DLC as well as porting the game, which goes some way to explaining the physics puzzle elements. Although it would be odd if there wasn't any of this. A spooky platformer featuring a child in a dark world without physics puzzles would be like a red barrel that doesn't explode.
It's coming out April 28th and if it's jogging any memory glands that might be because it used to be called Hunger but it isn't anymore. Deal with it.