Far Cry 5's DLCs will fight zombies and Martian spiders
Blood Dragon-ish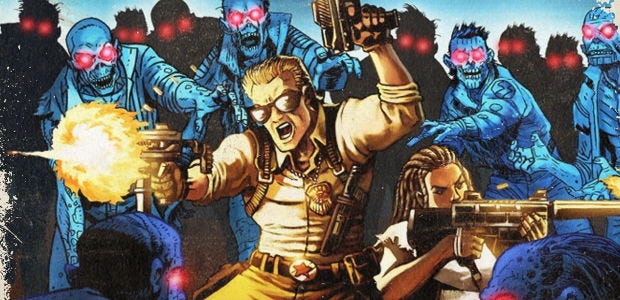 Though Far Cry 5 looks like it'll offer plenty of silly open-world shenanigans, no matter how serious it pretends its doofy story is, the DLC will go extra hard on wacky. Ubisoft on Friday announced the game's obligatory DLC season pass, and it seems they're channeling that Far Cry 3: Blood Dragon B movie spirit again. Three DLC episodes are coming, with one fighting zombies, one going back to the Vietnam War, and one off to Mars. Normally I'd not go on about DLC before a game's even out but I thought you might like to know about the silliness.
Here's what Ubisoft have to say about the three episodes:
Hours of Darkness: Players will travel back in time to Vietnam to battle against Việt Cộng soldiers
Dead Living Zombies: Players will face hordes of zombies in multiple b-movie scenarios
Lost on Mars: Players will leave Earth behind to go toe-to-claws with Martian arachnids
See? Silliness.
The season pass is included with Far Cry 5's Gold Edition, which costs £25/€30/$30 more than the regular edition - £75/€90/$90 in total. Presumably the pass be sold separately as well, and likely individual DLCs too? Ah, but it'd be grand if they also released those episodes as standalone games. The Gold Edition also includes a copy of Far Cry 3, as a side-effect of Ubi using this to introduce the game to the latest generation of consoles.
Far Cry 5 is out on March 27th.