Ghost Recon Wildlands open beta starts Feb 23, tontos
For beta or worse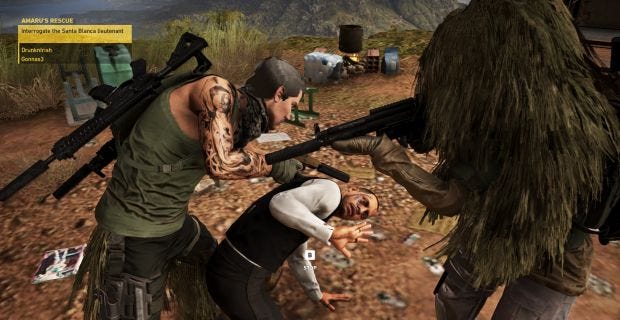 Graham and I have already shot drugmen in the head in perfect sync when we played the closed beta of Ghost Recon Wildlands [official site] together. But there was only two of us. What we really needed were some friends – and now it looks like we'll get thousands! The open beta is soon going to be available to anyone who wants to crack skulls and advance the US agenda in cartel-torn Bolivia. It's running from February 23 to 27.

There's going to be two big areas of the map open. That's one more province than we got to drive around in (the final game has 21 areas, they say). Here's what you're facing.
Itacua, a flourishing and mountainous province where the grip of the cartel is looser, ideal to perfect your sniping skills and get introduced to the Wildlands. Montuyoc, set in the snowy Altiplano, and the second province available in this Open Beta, is much more challenging – players who have suppressed the Itacua bosses will gain XP and skills boosts allowing them to face this dangerous area, home to Santa Blanca elite training centers. Players can of course confront Montuyoc right away… at their own risk.
With that comes missions. One of them will see you starting a conflict between Unidad (a well-armed force of security bozos whose patrols increase the more trouble you cause for them) and your main targets, the Santa Blanca cartel. On your side are some colourfully-dressed Marxist rebels, an unusual turn for the United States but hey, their leader will probably turn out to be a baddie in the end.
When the jefe and I shot the men, I enjoyed the Ubish mischief. Here's a picture of us tumbling down the side of a cliff.
But with AI or strangers, I found it a little empty and pointless, and far too po-faced, lacking the hi-octane madness of Far Cry, for example. But Graham liked it a lot more than me, and you'll soon be able to judge for yourself.
The open beta will be pre-loadable on Uplay from the 20th. Meanwhile, Ubi have also released the game's PC specs and requirements, if you want to take a gander.