Meching Your Mind Up: Five New Minutes Of Brigador
Meching enemies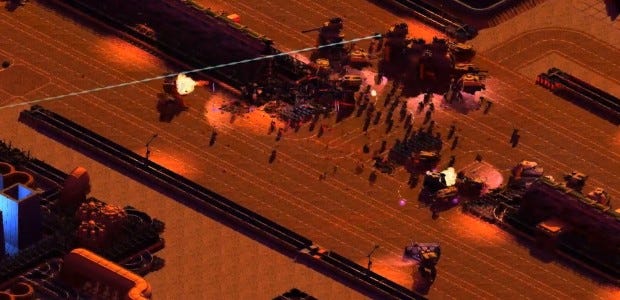 We previously covered Brigador when it was called Matador, and while the name has changed the subject remains the same: mech combat in a dark, futuristic world. Its isometric perspective and dimly lit city streets make it look a touch like Syndicate, but the destructive potential of its stompy bots mean that it plays like something else. There's a new five-minute long video below showing off a few of its different playable mechs.
At the start of each game of Brigador, you pick your mech, your pilot, and your defensive and offensive capabilities. There are a few different kinds of vehicle featured in the video above, and while it's clearly less powerful, I'm particularly fond of the nippy motorbike-style machine near the end of the video. The scenery destruction is such that you can use a laser to carve routes through seemingly any part of the world, and it looks fun to mislead the AI in one direction while you speed round the back and make yourself a new entrance.
Mainly though, it's the style that makes (mechs) me excited. I wish I wasn't so easily manipulated by a nighttime cityscape, but I am, and both the music and writing are similarly evocative. "Great Leader is dead. You have one night to liberate Solo Nobre. By any means necessary," started the original trailer.
The game has already been Greenlit, amd there's more information available at the Brigador site.