Monster Hunter: World PC multiplayer: how to connect with your friends, the Gathering Hub explained
Strength in numbers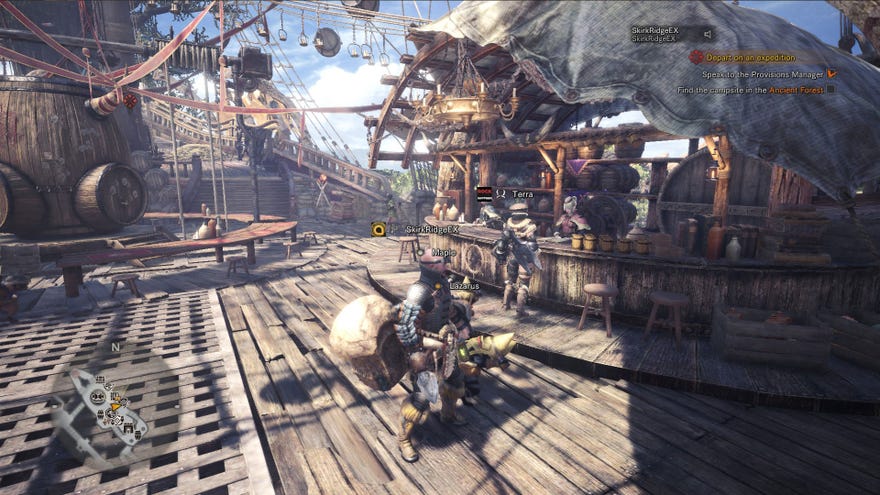 Some hunts are just better experienced with a full party at your side. Sadly, while going off a hunt with your friends is one of the better cooperative experiences around, Monster Hunter: World doesn't make the process of connecting with each other all that easy. It's not always required but you may find some hunts, particularly those pesky tempered monsters, tricky without that extra bit of help. With PC being a new format for the series, this guide will show you know how to connect with your friends and what the gathering hub is.
Monster Hunter: World PC multiplayer guide
There's only so much you can do on your own with Monster Hunter: World, though this is still potentially dozens of hours of game time. However the best way to play is to gather a group of up to four friends and go on raids together. There's nothing quite like the feeling of taking down a particularly hard monster. Of course you'll need to know how to actually play the game in order to contribute to the team, so head on back to our Monster Hunter World guide for more combat tips and tricks.
If you are looking for specifically Monster Hunter World Iceborne guides, then we have created a separate guide hub for just expansion stuff. Head over to our Monster Hunter World Iceborne guide to make your start.
Set up an Online Session in Monster Hunter: World on PC guide
This bit is the relatively easy bit, though there are multiple ways of connecting to a server. You'll first need to set up an Online Session, which you have a degree of control of some key settings. A lot of the options will filter out players based on whether players are new or experienced Monster Hunters, while Quest Preference expands on this further by allowing you to specify what you'll be doing. This includes quests, investigations, and assignments, as well as being able to specify if you're hunting small creatures, or a particular large monster or Elder Dragon.
You can also specify hunter rank for even more filtering options, as well as being able to include people that speak the same language or any language. On top of that, preset messages can be displayed to show other players a bit more about the session, but the most useful option is whether or not to make a server private.
This allows you complete control of who you invite, since there's a maximum of 16 players allowed per session, and four per quest (Thank you to the user "Bobtree" from our comments section from a previously published version of this guide for the clarification). Once you've set your perimeters, click finish to begin the session. Failing that, you can always join your friends via the Join Friends option.
How to invite friends to a private game in Monster Hunter: World on PC
Since the online is handled by Steam, inviting friends can be as simple as pressing Alt-Tab to bring up the Steam client, then use the internal Steam friends list to invite players you want to bring along to the game. Alternatively, there is also an option to Invite a Friend in the Communication part of the pause menu, that will also bring up a list of friends to invite to your game. However while testing this functionality, I found that this isn't always reliable as it can grey out the option and make it unavailable for some reason.
For those cases and for when you want to invite someone not on your Steam friends list, Monster Hunter: World also has a Session ID that you can copy to your clipboard for pasting in whatever means of communication you have with that person - whether that is Steam chat or an alternative chat window. This Session ID is probably the most reliable way to join games and on PC is made slightly easier thanks to copying and pasting.
There's also the option to join random people or specific lobbies. Guild cards help keep players you like in touch with you, as well as allow their Palicoes to spawn in your world to assist in hunts or turn up as an option in the Palico Safari found later in the game.
How to reconnect to friends
Occasionally you'll find that you've disconnected mid-hunt. This isn't the end of the world as you have multiple ways to rejoin. You can either use the Steam friend client to join a player's game, which can put you back into the same hunt provided it is still in progress. Alternatively you can also use the option "Friend's Sessions" in the main menu as you boot up the game to try and get back in.
What is the Gathering Hub in Monster Hunter: World?
When you do join a friend's session, or a friend joins your session, you won't be able to see them immediately. In order to see each other in-game, all players need to head to the Gathering Hub at the top of Astera. Once there, you should be able to not only see your fellow hunters, but also accept quests at the kiosks nearby. There is also a mini-canteen for eating before you head out, as well as a chest for organising your items before departing.
Also worth noting is that large monster health scales by a reported factor of 2.6x when another player is added. Status ailments are also reportedly scaled when other players join. It is also not removed should there be a disconnection when playing, so bear that in mind when assembling a team. (Thank you to the user "Bobtree" from our comments section from the previously published version of this guide for the clarification)
This is also where you can find the Arena, where you and a friend can fight against a large monster with special conditions. You can also play this by yourself if you wish to try and beat the monster in under a specific time limit. The quicker you are in defeating your chosen monster, the higher the rank, and the better the rewards are.
How does the SOS flare work?
While out on a hunt, you'll have the option to send off a SOS flare when you begin to fight a monster. This allows other players who are searching for that particular monster for a session at that time to see your hunt and join in the middle of it. The health scaling won't apply until people are in the game.
With any luck, you should now be going on jolly expeditions with other players. In order to be fully prepared for your expeditions or quests, you'll need to learn the most you can about your quarry, so feel free to check out our Monster Hunter: World ecological research guide for more on that. You'll also need a selection of tools to help your teammates, so our Monster Hunter: World crafting guide will show you which items are the best to craft.