Star Wars Jedi: Survivor receives first patch to "improve performance and fix bugs"
This is the way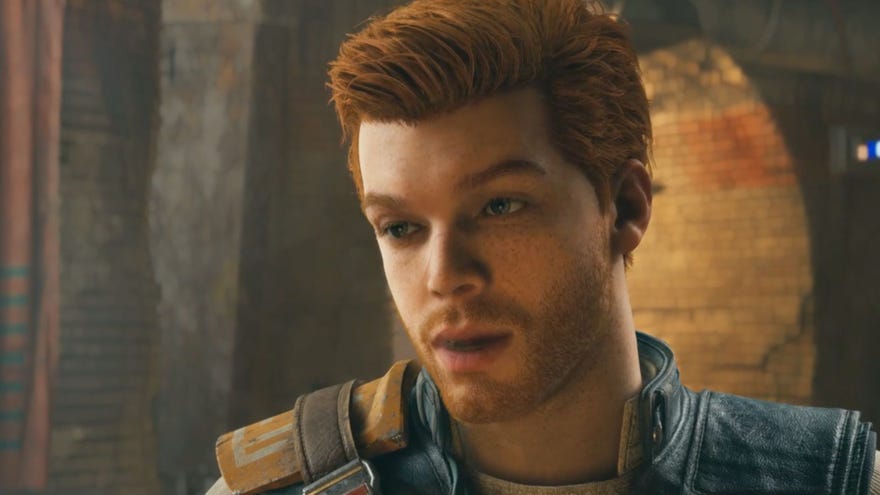 Star Wars Jedi: Survivor's PC has had a particularly bumpy launch on PC with our hardware boss James concluding that "sluggishness and stuttering are problems on higher-end graphics cards, even before adding the strain of ray tracing effects." EA have now released their first post-launch patch, aiming to fix a host of issues.
The patch is coming to consoles later today, but it's already arrived for PC friends. Here's everything it's fixing:
Performance improvements for non-ray traced rendering.
Fixed crashes that were tied to skipping cinematics.
Fixed an issue with dynamic cloth inside the Mantis.
Fixed various rendering issues.
Fixed an issue with registered Nekko colours not saving.
Fixed an issue with registered Nekko disappearing from the stable.
Fixed issues with cinematic dialogue overlapping.
Fixed various collision issues.
Fixed an issue with enemy Al remaining in T Pose during photo mode.
Fixed a freeze that occasionally occurred while talking to Doma.
Fixed a bug where the BD-oil VFX did not properly render.
Fixed an issue where players were getting stuck inside the Chamber of Duality if they didn't save after leaving the chamber and died.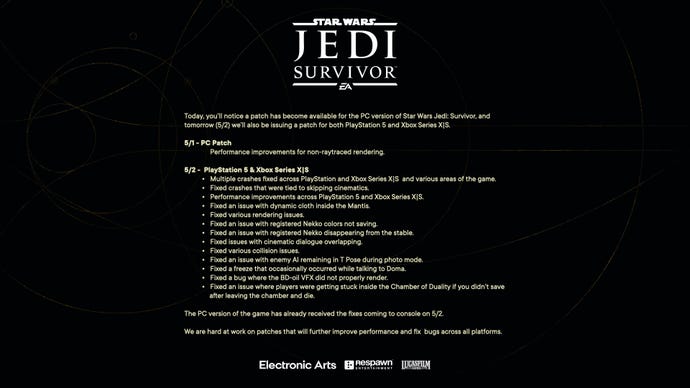 I'm slightly disheartened that enemies will no longer T-Pose in photo mode since that's just solid entertainment. Aside from that, the reported jitters affecting performance should be somewhat improved now.
Late last week, EA stated there was "no single comprehensive solution for PC performance," due to the "spectrum of configurations," so this patch might not have fixed issues for everyone. Although, EA have promised future updates to "further improve performance" on every platform.
Hopefully, the botched PC release gets fixed soon since it's apparently a fun farfaraway romp. "I long ago succumbed to Star Wars fatigue," AliceB wrote in her review, "but Jedi Survivor is good! It's fun! It's Star Wars!" She particularly enjoyed the Prequel era memeification of the spunky droids and chirpy stormtroopers, which is somehow what I'm looking forward to the most - once the game is more stable, of course.
If the recent patch has fixed things - or if you never had any issues to begin with - check out our Star Wars Jedi: Survivor walkthrough for tips on how to do the titular surviving and other space magic stuff.