Best MW3 Lachmann Shroud loadout and class setup
This is the best Lachmann Shroud build in Modern Warfare 3 right now
Looking for the best Lachmann Shroud loadout in Modern Warfare 3? The Lachmann Shroud is a burst-firing SMG that can be powerful when equipped in the right hands. Although there are certainly other SMGs that are worthy competitors, it still ranks as one of the best SMGs in Modern Warfare 3 due to its high mobility and ADS time.
When looking to create a Lachmann Shroud build it's worth pointing out that you cannot change the burst into an automatic mode. Rather, your best bet is to optimise it with speedy and powerful attachments. For the best Lachmann Shroud loadout in Call Of Duty: Modern Warfare 3, read our full guide below.
Why use the Lachmann Shroud in MW3?
The Lachmann Shroud is a slightly curious case due to it having an integrated suppressor and lack of muzzle support. This means you'll need to prioritise other attachments to improve the mobility and damage output of the gun. For a full list of our cultivated attachment recommendations, see below.
---
Best Lachmann Shroud loadout in MW3
Laser: VLK LZR 7MW
Stock: FT Mobile
Ammunition: 9mm Sub HP
Magazine: 40 Round Mag
Optic: Cronen Mini Pro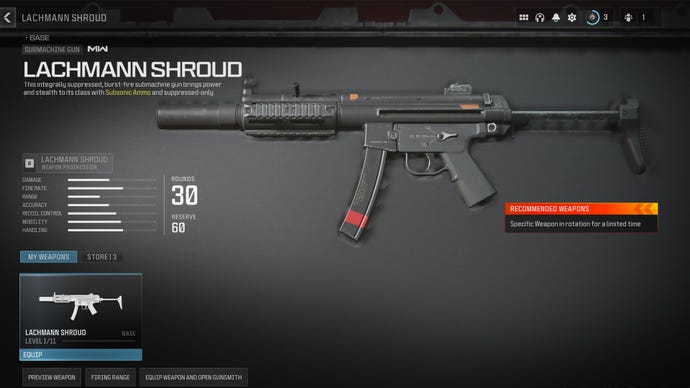 For this Lachmann Shroud build, we've prioritised making the gun even more of a powerhouse within close to mid-range combat. The Lachmann Shroud is already a gun with fantastic mobility and ADS speeds, so we've optimised this further to make the gun excel in fast run-and-gun combat.
Stock: FT Mobile
First of all, try the FT Mobile stock for added sprint speed, aim walking speed, crouch movement and ADS speed. Although this will give the gun a slight dip in recoil control, the added mobility more than makes up for it and enhances the Lachmann Shorud into a smoother, more streamlined experience.
Laser: VLK LZR 7MW
The VLK LZR 7MW laser will give your Lachmann Shroud build a boost to ADS, sprint-to-fire and aiming stability, a golden trio that will further add to the overall handling of the gun. The only real downside is that the laser will increase your visibility, but if we're optimising for a close-combat, aggressive approach, this isn't a huge issue.
Ammunition: 9mm Sub HP
For ammo, try 9mm Sub HP bullets. These will give the Lachmann Shroud even more impact at close range, optimising its iconic burst and enhancing your chances of getting a kill with one fire. This not only increases your damage potential but also your speed in and out of combat.
Magazine: 40 Round Mag
Capitalise on your enhanced ammo with the 40 Round Mag, delaying the need to reload, and amping up the gun's capacity. When you have a spare attachment slot that would usually be given to a muzzle upgrade, expanding your mag is always a good option.
Optic: Cronen Mini Pro
Lastly, we recommend a good optic like the Cronen Mini Pro to add some accuracy to your Lachmann Shroud loadout. Although any optic will do the job, the Cronen Mini Pro is a solid choice. If you're optimising for a sniper as a second primary weapon, you may wish to forgo the optic for something less visible, but for the run-and-gun playstyle it isn't too much of a deal breaker.
---
Best Lachmann Shroud class setup: Secondary weapon
FJX Imperium, Renetti.
As we've optimised the Lachmann Shroud for close combat, you may wish to equip a long-ranged weapon to cover all bases. If you're looking for a good sniper rifle, we recommend the FJX Imperium, a quickscoping champion capable of one-shot kills from a large distance and a top contender for our list of the best sniper rifles in Modern Warfare 3.
Alternatively, if you only have the space for a secondary sidearm, you can't go wrong with the classic Renetti. The Renetti is a semi-automatic pistol, often regarded as one of the best pistols in Modern Warfare 3 due to its exceptional fire rate and surprising control despite its 3-round burst.
---
Best Lachmann Shroud class setup: Perks and Equipment
Demolition Vest, Battle Rage, Frag Greande, Med Box, Ordnance Gloves, Running Sneakers, Mag Holster.
When picking equipment for this Lachmann Shroud build, we recommend something that will capitalise on an aggressive approach to complement close-range combat. With that in mind, consider the Demolition Vest which will renew focus on explosives and give you twice the amount of Lethal equipment upon deployment. Additionally, the vest will allow you to resupply Lethal and Tactical equipment every 25 seconds, quite literally making you a demolitions expert.
With throwables being key to this loadout, we've opted for the classic Frag Grenade to maximise damage and impact, useful for clearing out both open and closed spaces across maps. With your vest, you'll be able to take full advantage of the Frag Grenade's damage potential. Back this up with a dose of Battle Rage which will give you an adrenaline rush and help stimulate health regen. When in use, it will also give you resistance to enemy Tactical equipment and will constantly refresh Tactical Sprint, making you a bit spongier while on the frontlines.
For your choice of gloves, we've opted for the Ordnance Gloves which will allow you to throw equipment further and reset the fuses on thrown-back grenades, further capitalising on the nature of the Demolition vest. Pair this with the Running Sneakers for a nice little boost to Tactical Sprint duration and a reduction in its refresh rate and you'll have speed to match the power of this build.
When choosing between Gear and Field Equipment options, consider the Mag Holster for improved reload speed and the Med Box for emergency healing supplies for yourself and your teammates.
For more Modern Warfare tips and tricks, check out our guide to the best perks in-game for optimal loadouts.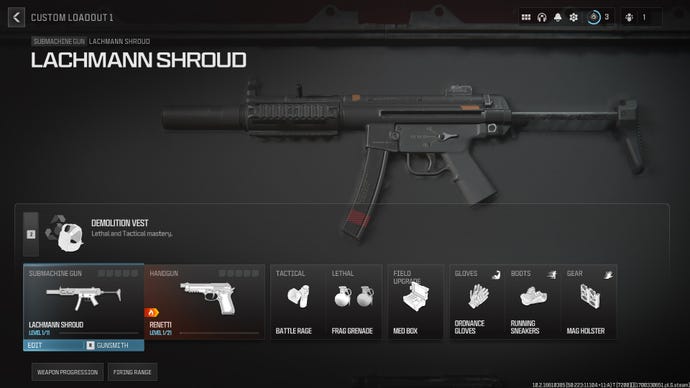 ---
Best Lachmann Shroud alternatives in Modern Warfare 3
Striker, Lachmann Sub.
If the Lachmann Shroud's burst fire is getting on your nerves, there are a multitude of fantastic SMG options in Modern Warfare 3. Two of the best SMGs currently are the Striker and the Lachmann Shrouds reliable cousin, the Lachmann Sub.
The Striker has cropped up in Call of Duty titles before, previously known as the UMP45, this SMG has a solid range while maintaining impressive damage and mobility stats. Likewise, the Lachmann Sub is capable of some serious damage with a truly excellent rate of fire, perfect for a speedy run-and-gun build.
That rounds off our guide to the best Lachmann Shroud build in Modern Warfare 3. Get a better idea of the full gun meta with our list of the best guns in Modern Warfare 3, and the best loadouts in MW3.