Call Of Duty: Vanguard best guns: ranking every gun in Call Of Duty: Vanguard from best to worst
These are easily the best guns in Call Of Duty: Vanguard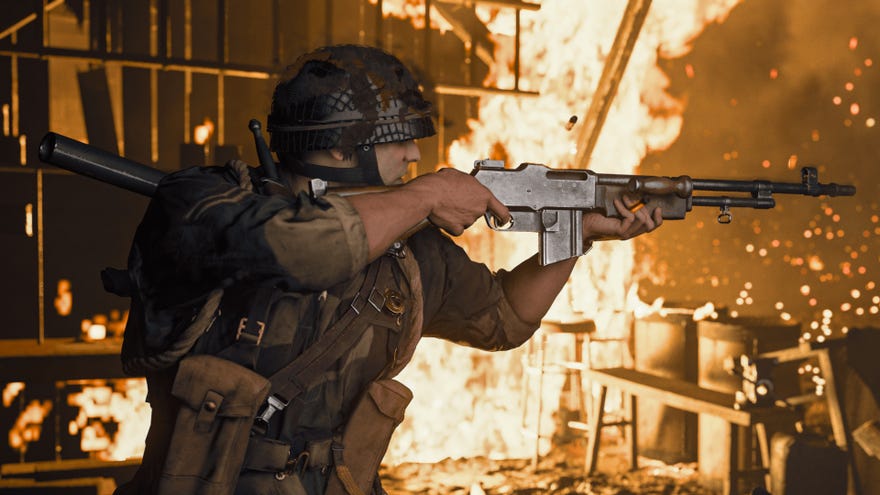 Want to know the best guns in Vanguard Season 1? If you want to rack up kills, get more wins, and maybe even earn a coveted V2 Rocket, then you'll need to know the best guns in Vanguard. There are plenty to choose from, with over 30 guns available in Call Of Duty: Vanguard Season 1, so it's hard to just jump in and find the best gun straight away. Fortunately, we've tested them all out and ranked every Vanguard gun from best to worst.
Below, you can find our ranked list of every gun in Vanguard Season 1. This includes new weapons added in the first Season, such as the Gorenko Anti-Tank Rifle and Cooper Carbine. As more weapons are added in future Seasons, we'll update this list so that you can see how they fit into the current meta. Make sure to check back regularly, as frequent balance patches and fixes drastically alter the meta and can change the best guns in Vanguard often.
There are currently over 30 weapons available in Vanguard Season 1. However, this number includes Pistols and Rocket Launchers, which aren't ideal for any loadout. Below, we've listed all of the primary weapons available in Season 1, ranking them so that you can easily see which is best and understand the current meta.
Here are all the Call Of Duty: Vanguard guns from best to worst:
Combat Shotgun
STG44
MP40
Type 100
BAR
Automaton
MG42
M1928
Kar98k
3-Line Rifle
Einhorn Revolving
Double Barrel
PPSH-41
Volk
Type 11
Cooper Carbine
DP27
SVT-40
NZ-41
ITRA Burst
Owen Gun
M1 Garand
Type 99
G43
Gorenko Anti-Tank Rifle
AS44
Sten
Bren
Gracey Auto
When you first start playing Vanguard, you won't have access to every single weapon. As with previous Call Of Duty games, you'll need to unlock these weapons over time by playing games, earning experience, and increasing your player level. Each weapon can also be fitted with up to 10 attachments simultaneously in Call Of Duty: Vanguard, although most of these attachments will be locked until you reach a certain level with that specific weapon. Follow our Call Of Duty: Vanguard levelling guide to learn how to level up as quickly as possible.
Now let's go over some of the very best guns in Vanguard Season 1.
---
Call Of Duty: Vanguard best guns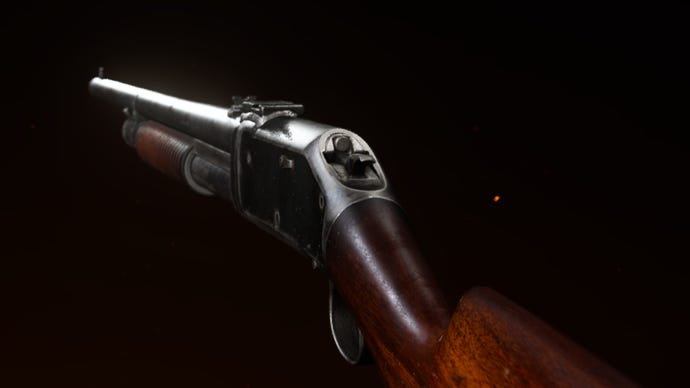 Combat Shotgun
With the Combat Shotgun, getting instant kills at close range is as easy as I can ever remember it being in any Call Of Duty. This beast of a Shotgun fires quickly, can one-shot-kill at a startling range for a Shotgun, and features a large magazine capacity and quick reloads to boot.
But by far the biggest reason to use the Combat Shotgun is to unlock a particular combination of attachments - Slug Rounds and the 12 Gauge magazine conversion - the combination of which allows you to use the Combat Shotgun like a sniper, one-shot-killing even with a limb shot up to a ridiculous, overpowered range. Learn more with our Call Of Duty: Vanguard best Combat Shotgun loadout guide, which also covers a close-ranged fast-paced setup for those that want a traditional run-and-gun Shotgun playstyle.
---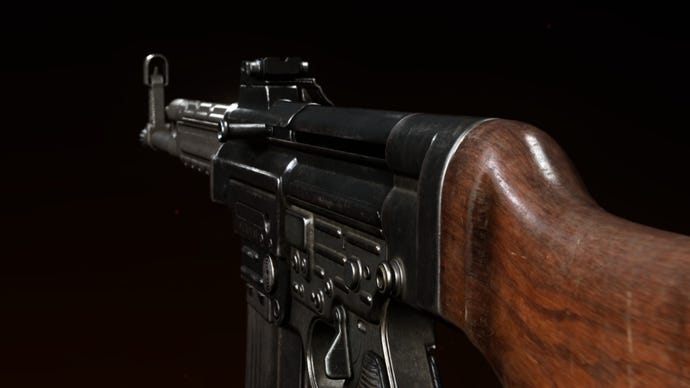 STG44
The STG44 is a true powerhouse Assault Rifle, and it's strong even without attachments. It doesn't boast the lowest time-to-kill, but its good effective range counts for a lot, allowing you to drop enemies at surprising distances for an Assault Rifle.
Another feather in the STG44's hat is its naturally low and controllable recoil, which will help you to more consistently land your headshots - an important trait in any COD game, but particularly so in Call Of Duty: Vanguard. And, of course, there's the benefit of the STG44 being available to all players from Level 1, so you don't need to grind in order to unlock it.
To help kit the STG44 out to make it as powerful as possible, check out our Call Of Duty: Vanguard STG44 loadout guide.
---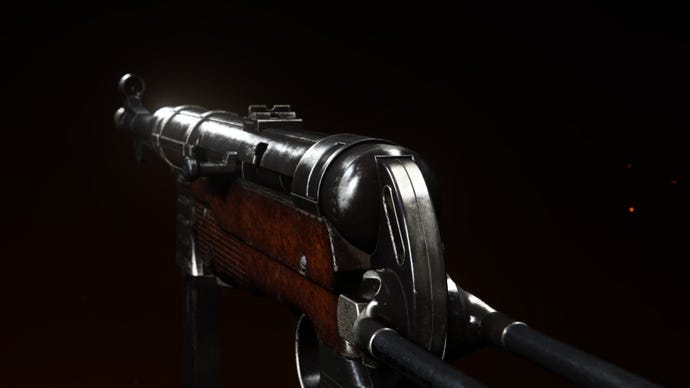 MP40
The MP40 was one of the most popular weapons at launch and it continues to dominate in Season 1. This versatile SMG sets itself apart from its peers thanks to its impressive effective range and its low recoil, both of which you can develop to a pretty ludicrous degree with the right set of attachments.
Great handling stats across the board make the MP40 a fantastic choice for an aggressive playstyle, and the time-to-kill with this weapon is very competitive as well. There's really not much in the way of downsides with this top-tier SMG as long as you're using it within its effective range.
If you're looking to make the most of this powerful SMG, look no further than our Call Of Duty: Vanguard MP40 loadout guide!
---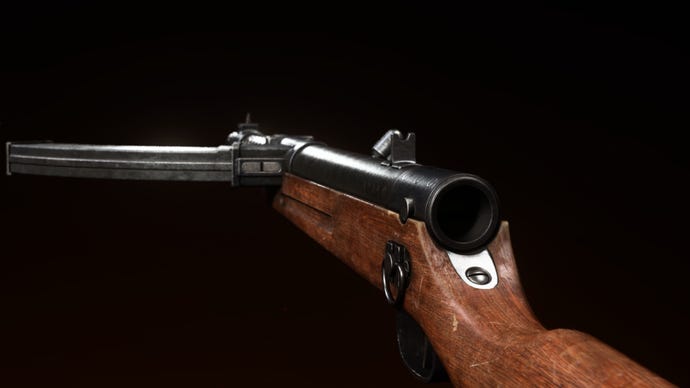 Type 100
The Type 100 is my favourite SMG. It is naturally very accurate with exceptionally low recoil and great range for an SMG, which makes it a very versatile gun. You'll hear a lot of people complain about the Type 100's low damage output, which counteracts its high rate of fire. But the secret to unlocking the Type 100's potential is hidden within its attachments, which allows you to sacrifice a bit of recoil control (it's okay, the Type 100 has recoil control to spare) in order to boost its damage output and time-to-kill to ludicrous values.
To learn how to turn the Type 100 into one of the strongest class setups in the game, check out our page on the best Type 100 loadout in Call Of Duty: Vanguard.
---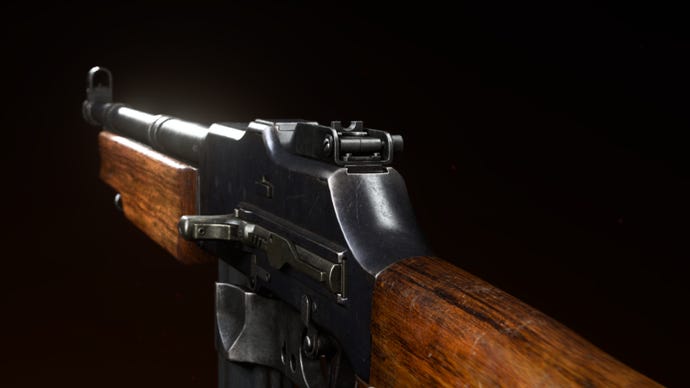 BAR
The BAR is the heavy hitter of the Assault Rifles in Call Of Duty: Vanguard. Its low fire rate makes perfect sense when you consider the punch behind each individual shot. It's obviously not the best choice for very aggressive running, gunning, and jumping around corners, but for holding angles and following the flow of each map in a more sedate manner, you'll find the BAR more than capable of melting enemies with very few shots.
Many players prefer to use a snappier, faster-firing Assault Rifle, but if you don't mind getting to grips with a slower-firing automatic weapon, you'll find the BAR can definitely compete with the best. To learn how to kit it out to become a two-shot-kill monster, check out our Call Of Duty: Vanguard BAR loadout guide.
---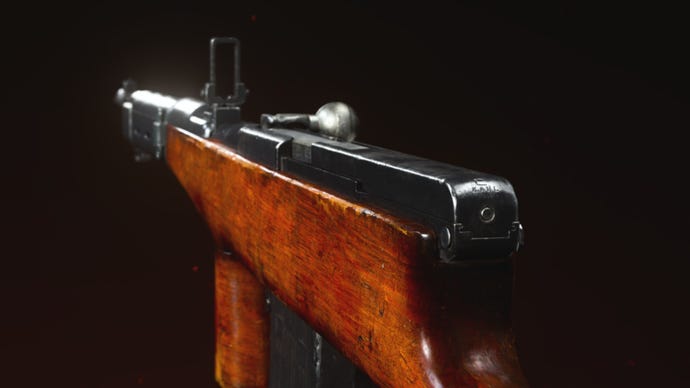 Automaton
The Automaton bears more than a few similarities to the Type 100 SMG. You might initially be put off by its low damage per shot, but the high rate of fire and impressive accuracy and range offset this disadvantage to turn it into a very formidable weapon that can quickly mow down enemies at any range, particularly with a headshot or two thrown into the mix.
The Automaton's weakness can be offset further with the final magazine conversion, which reduces the number of body shots to kill an enemy from 5 down to 4. This makes a very big difference to the gun overall, and turns it into a strong rival for the BAR and STG44 within the best Call Of Duty: Vanguard Assault Rifles category. To learn how to make the most of this laser-accurate rifle, check out our Call Of Duty: Vanguard Automaton loadout guide.
---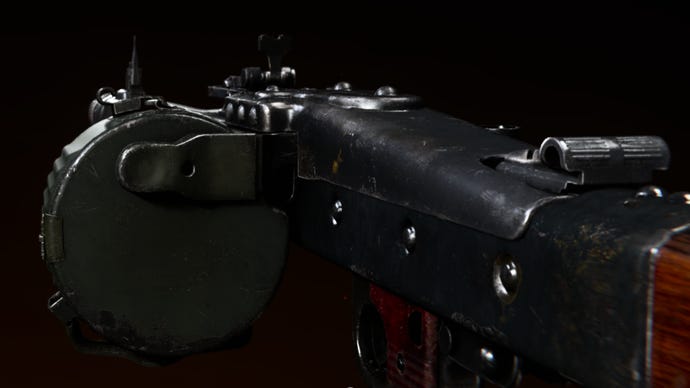 MG42
The MG42 is by far the strongest LMG in the game right now. It boasts the highest fire rate of any gun in the game at a whopping 1034.5 RPM (that's 17.24 shots per second), and it is very controllable as well, with the lowest horizontal recoil of any LMG.
Of course, if you're more familiar with aggressive running-and-gunning with nippy SMGs, you're going to have to get used to the LMG's slow handling stats and general bulk. But when the bulk is what affords you such low recoil and a 125 round magazine with which to pepper enemies and hold angles for days, you can forgive the MG42. Learn how to make the best Call Of Duty: Vanguard MG42 loadout here.
---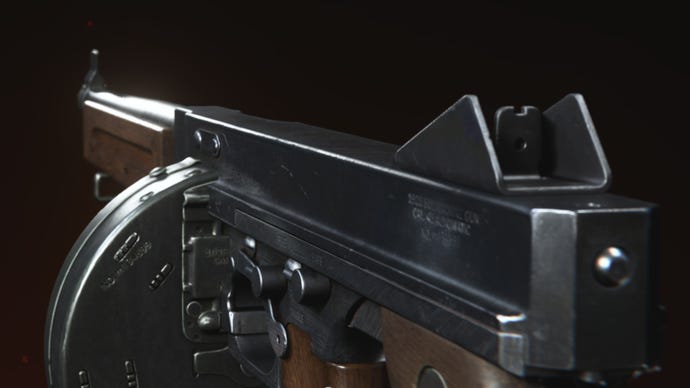 M1928
The M1928 doesn't quite have the time-to-kill potential of the MP40 or the Type 100, but it definitely deserves a mention as one of the best guns in the game thanks to its very high fire rate and reliability. With the right attachment combination, the M1928 can kill with 3 shots to any part of the body, and those three shots come very quickly with a gun as fast as this.
Another great thing about the M1928 is its naturally high magazine capacity, which is much needed for a gun that fires this fast. As long as you keep your sprint-to-fire speed high and your transfers swift, the M1928 will easily net you triple or quadruple kills under the right circumstances. Check out our best M1928 loadout to unlock its full potential and wreak havoc on the battlefield.
---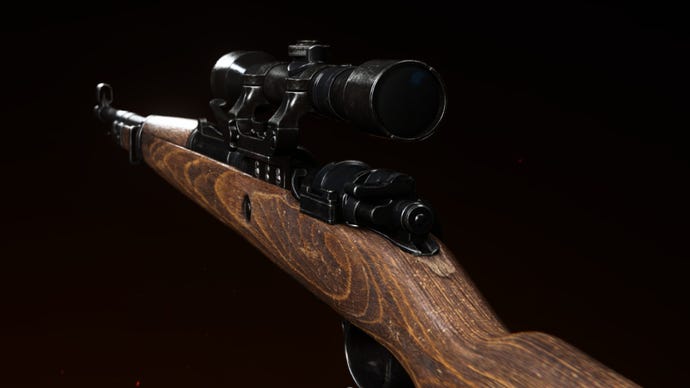 Kar98k
The Kar98k should be your go-to weapon for quick-sniping in Call Of Duty: Vanguard. Kit it out for speed, and your capacity to earn quad kills goes through the roof. Capable of one-shotting an enemy with an upper-body shot, and beating its competitors in pretty much every mobility and handling aspect, the Kar98k is familiar, reliable, and immensely powerful if you've got a quick trigger finger.
You really do want to maximise both your ADS speed and your general movement and sprint-to-fire speeds when it comes to choosing attachments for the Kar98k. There's no reason to care about recoil, sway, or effective range when you're quick-scope sniping, and for those who have been using the Kar98k in Call Of Duty: Warzone, it's a great way to get used to the minute differences in sniping between Vanguard and earlier titles. Check out our best Call Of Duty: Vanguard Kar98k loadout for more details.
---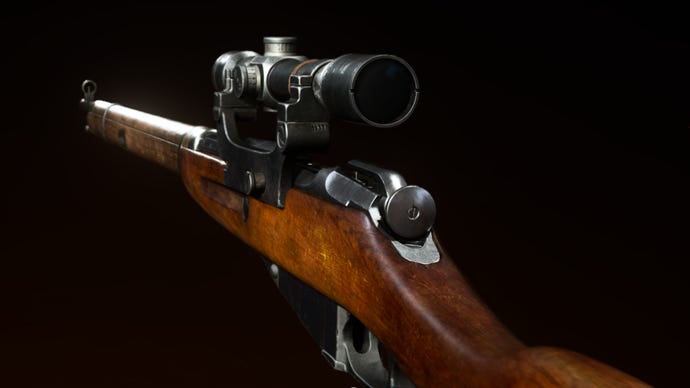 3-Line Rifle
The 3-Line Rifle gives you the highest chance of one-shot-killing an enemy. Whereas a Kar98k will kill with a shot to the head or upper-body, the 3-Line Rifle will kill with a shot to anywhere except the limbs. That's kind of insane, and it's for this reason that the 3-Line Rifle absolutely deserves a place in the list of best guns in Call Of Duty: Vanguard.
If you're looking for short-range quick-scope sniping, then the Kar98k is the best Sniper Rifle in Vanguard. But if you want a more sedate game of holding angles and picking off targets from afar, then there's nothing better than the 3-Line Rifle. Be sure to learn the best attachments to use with our Vanguard 3-Line Rifle loadout and class setup guide.
---
That wraps up our list of the best guns in Vanguard Season 1. If you want some more guidance on how to use these guns in your class setup, check out our list of the best loadouts in Vanguard. Of course, a loadout needs much more than just strong guns, so take a look at our lists of the best perks, best equipment, and best killstreaks in Vanguard. If you want some more information on how these guns compare, check out our Vanguard weapon stats guide. You can also find out more by looking at our guides for each gun type, such as our lists of the best Marksman Rifles and best LMGs in Vanguard Season 1.